About Sportsbet App
The Sportsbet India mobile app has been developed by a team with vast experience in running sports betting and online casino platforms. We have taken all this experience and opened up the widest range of features to the users. The mobile version is available on Android and iOS. It is perfectly optimized and runs smoothly on most smartphone models. And in terms of the set of game features and functionality it is not inferior to the website at all.
While our site offers special benefits to cryptocurrency holders, a high level of comfort and security awaits every customer. It doesn't matter if you prefer to play with cryptocurrencies or fiat currencies. We will make sure that your experience will be unforgettable.
| | |
| --- | --- |
| Supported OS | Android, iOS |
| Application version | 1.21 |
| Application size | 85 mb |
| Application category | Sports betting, casinos |
| Download cost | Free |
| Available on the Apple Store | Yes |
| Available on Google Play | No |
| Android version | 5.0 |
| iOS version | 10.0 |
| Languages | English, Portuguese, Turkish, French |
| Internet connection | Wi Fi, 3G, 4G |
A faster interface, reduced battery consumption, tailored navigation, multi-level data encryption – all this and more awaits you in the Sportsbet mobile app.
Sportsbet App for Android
The feature-rich Android version of the mobile app will allow you to enjoy all the sports betting and casino gaming features that are available on Sportsbet India. In addition, you will get access to various additional settings that will help make your gaming experience even more comfortable.
System Requirements
Before installing the Sportsbet mobile app, please ensure that your smartphone meets the minimum technical requirements to use the software.
| Indicator | Recommended value |
| --- | --- |
| Android version | 5.0 |
| A place in memory | 6 Mb |
| Main memory | 1 Gb |
If these requirements are not met, you can bet on the website. The app may also be available to you; however, if your smartphone does not meet the recommended specifications, we do not guarantee the stability of the app.
Devices
To make sure the Sportsbet mobile app is optimized, we have previously tested it on a number of popular smartphone models:
Vivo V20;
Vivo Y53s;
Vivo Y20G;
Oppo A53;
OPPO F19;
Oppo Reno 4;
OnePlus 9R;
OnePlus 6T;
Xiaomi Redmi Note 8;
Xiaomi Redmi 7A;
Samsung Galaxy A52s;
Samsung Galaxy M21.
Don't be upset if you don't have one of the models listed above. The app will run smoothly on all devices with similar characteristics.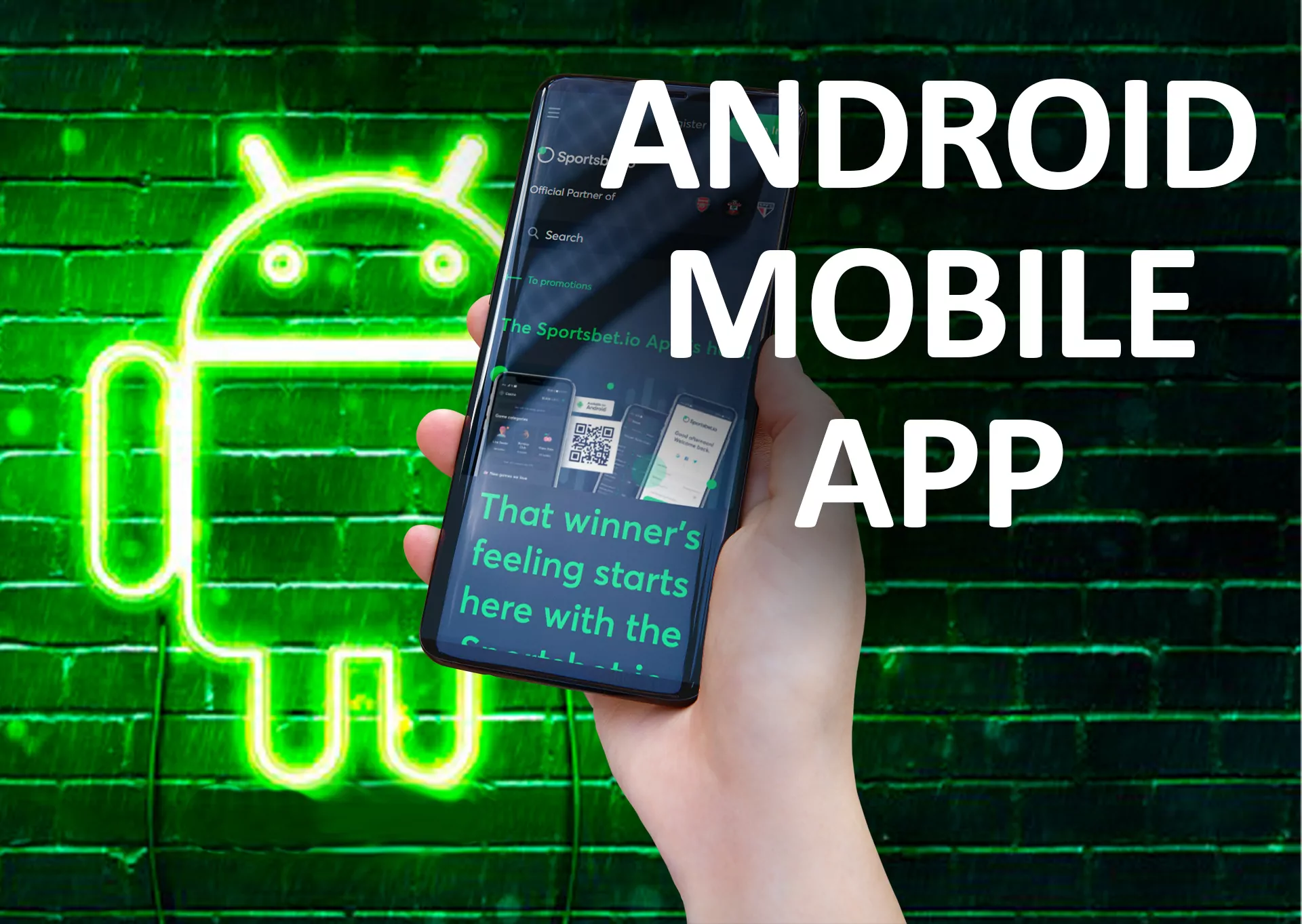 Download for Android
We have made sure that the process of downloading and installing the Sportsbet mobile app on Android is as quick and easy as possible for users. You only need to follow 4 steps before you can start playing.
1

Step 1. Download Sportsbet App

On the Sportsbet India website, click the button to download the app. Your browser may warn you about the dangers of downloading the software, but you still need to confirm the download.
2

Step 2. Go to the Settings of Your Device

Go to your smartphone settings and open the section responsible for security and privacy. There, in the Unknown sources field, you need to move the slider.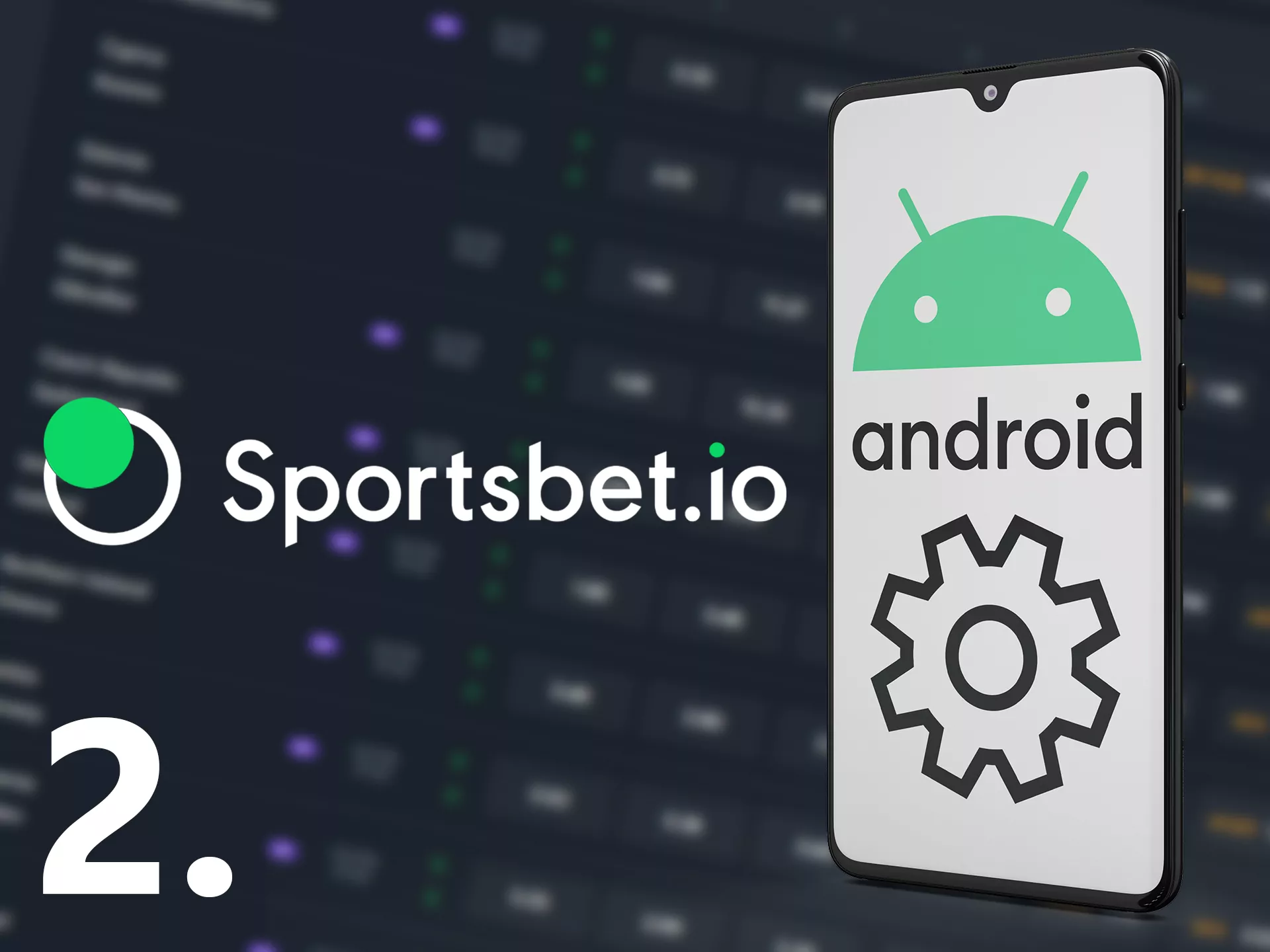 3

Step 3. Complete the Download Process

Wait until the process of downloading Sportsbet APK file comes to an end. Do not proceed to the next step until then. Otherwise installation will not be possible.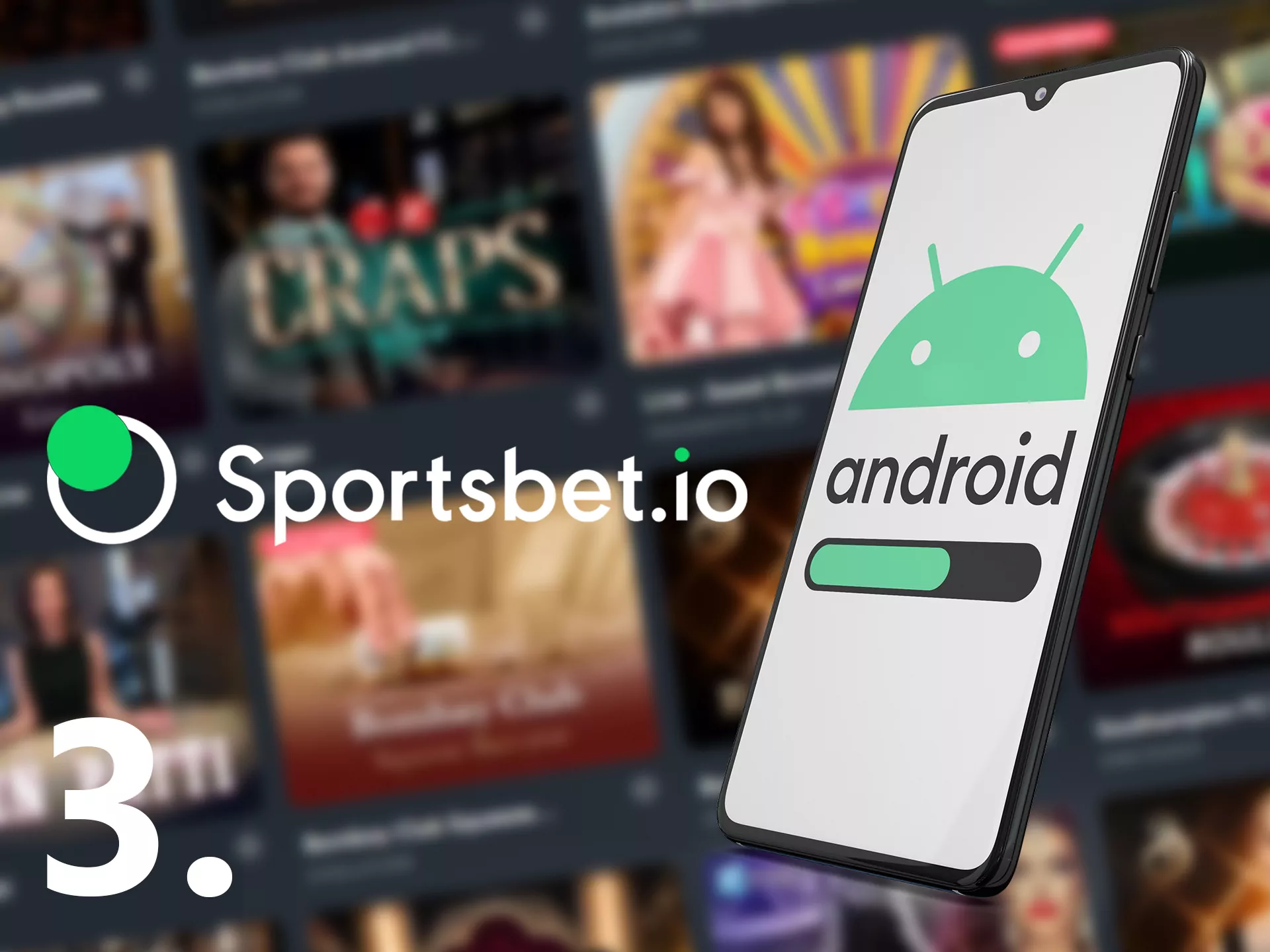 4

Step 4. Confirm the File Installation

When the file is fully downloaded, open it and confirm the installation. It will take a few seconds, after which you will be able to launch the application via shortcut, authorize or create an account.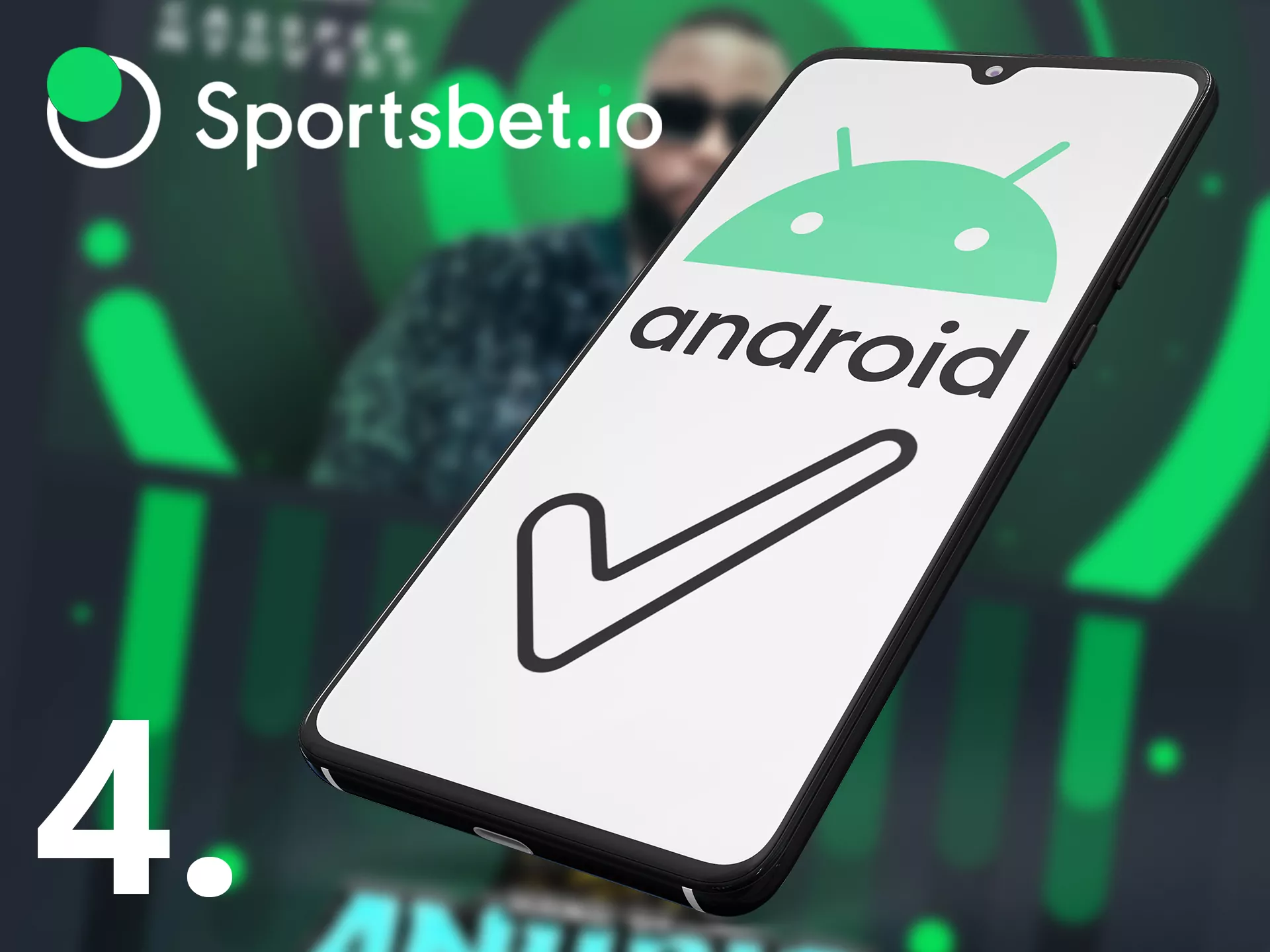 Sportsbet App for iOS
Users of iOS devices can also place bets and play casino games via their smartphone or tablet. The Sportsbet website is adapted for mobile viewing, so you won't have any problems. And to start playing, all you have to do is follow a few steps, taking just a few minutes to complete.
System requirements
Due to the fact that the game is possible via the web version, there are no minimum system requirements as such. However, if you want to not only bet on sports, but also play casino games, it is desirable that the device meets some characteristics:
| Indicator | Recommended value |
| --- | --- |
| iOS version | 10.0 |
| A place in memory | 6 Mb |
| Main memory | 1 Gb |
But the web version will run on weaker devices thanks to excellent optimization.
Supported iOS Devices
The Sportsbet mobile iOS version has been tested on all the latest iPhone and iPad models:
iPhone 5;
iPhone 6;
iPhone 7;
iPhone 8;
iPhone X;
iPhone Xr;
iPad Air;
iPad mini 2;
iPad Pro;
iPod touch.
Newer devices in terms of year and generation will also allow you to bet and play casino games without any problems.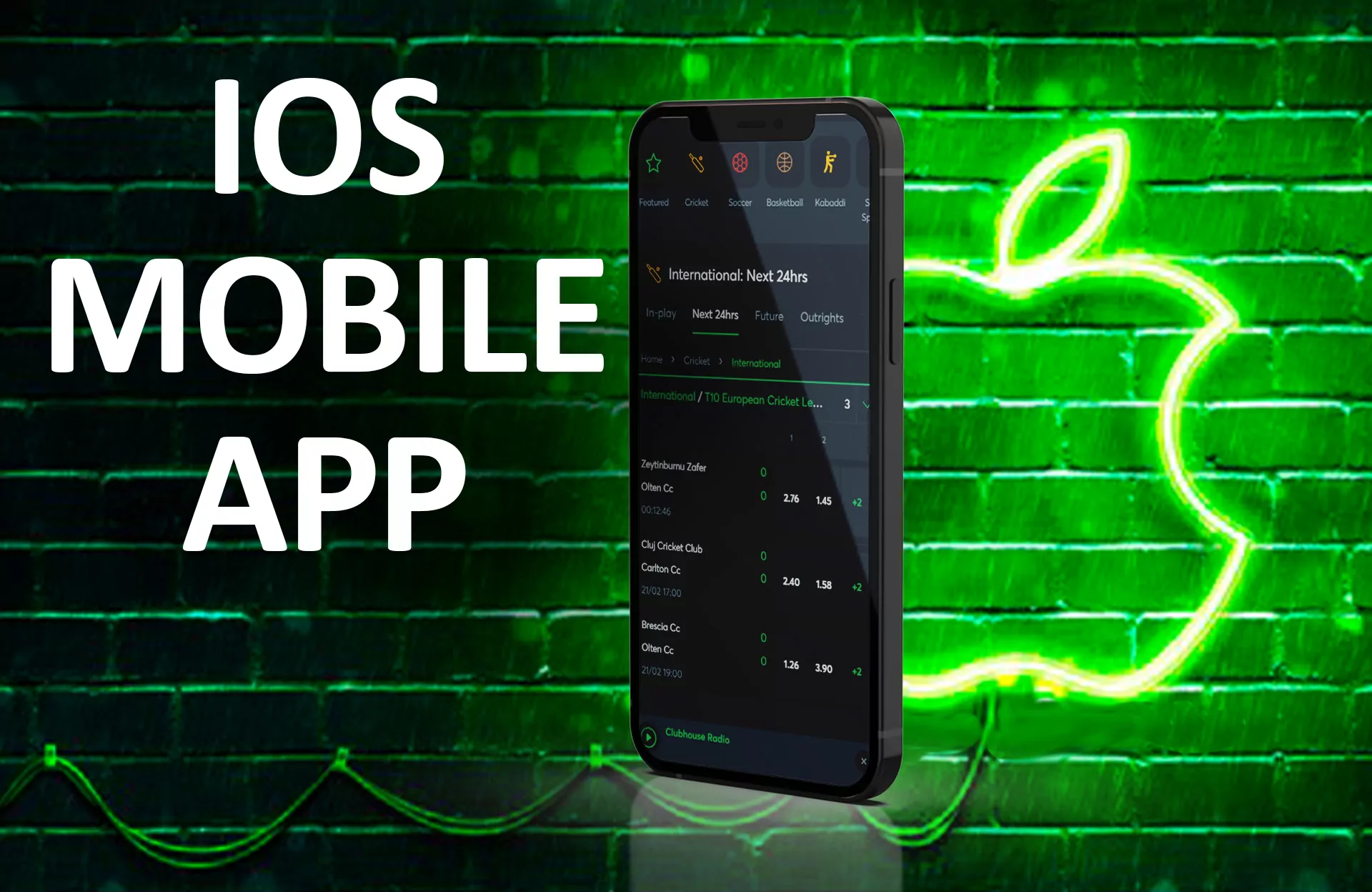 Download for iOS (iPhone, iPad)
Take just a few minutes to start playing at our betting shop. Follow the instructions below and you will soon have access to all of the site's gaming features.
1

Step 1. Go to the Official Website

Launch the browser on your smartphone and open the home page of the official Sportsbet India website through it.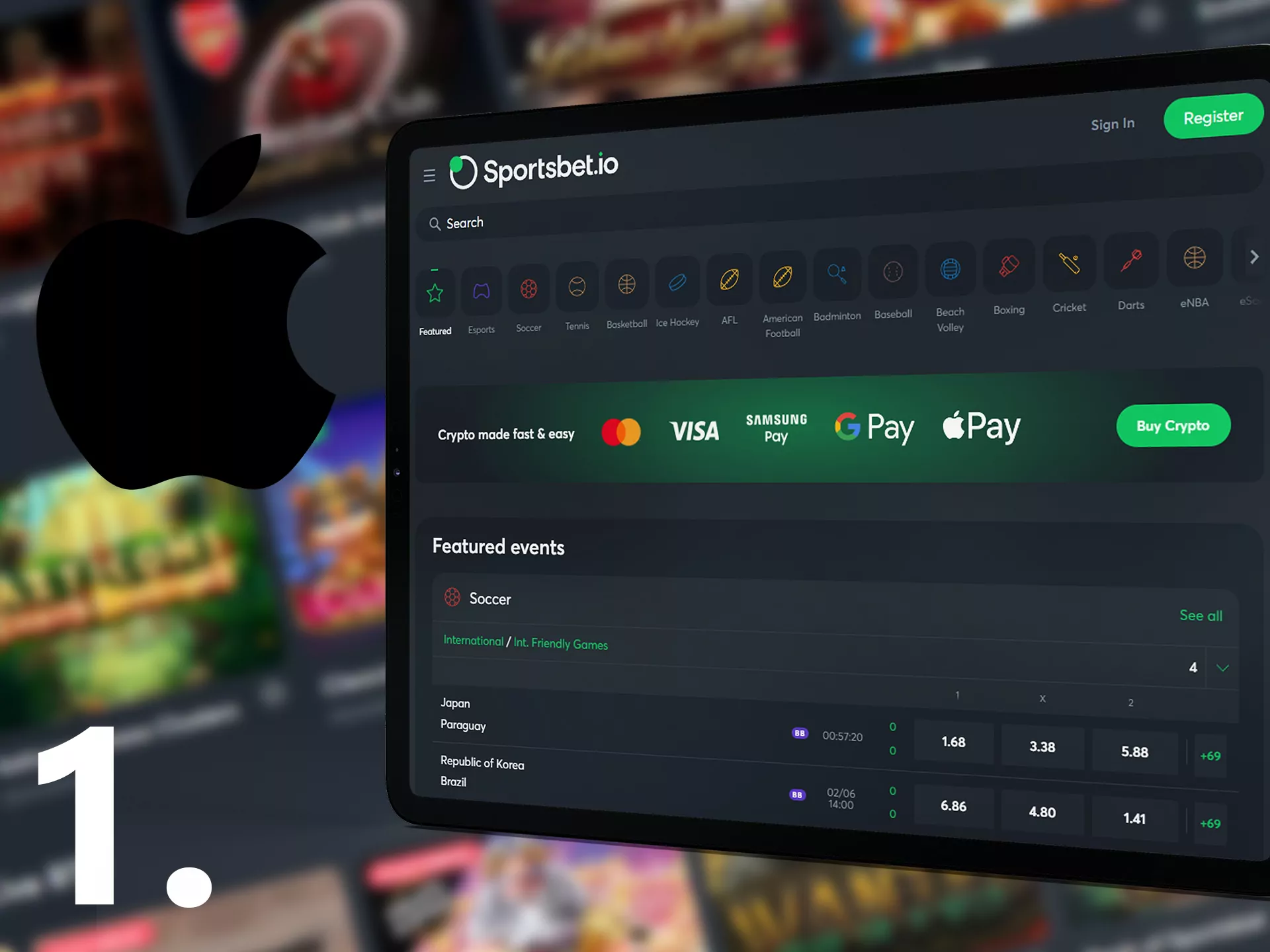 2

Step 2. Registration

Click on the button to register and fill in the fields with personal data. After that, confirm the account creation.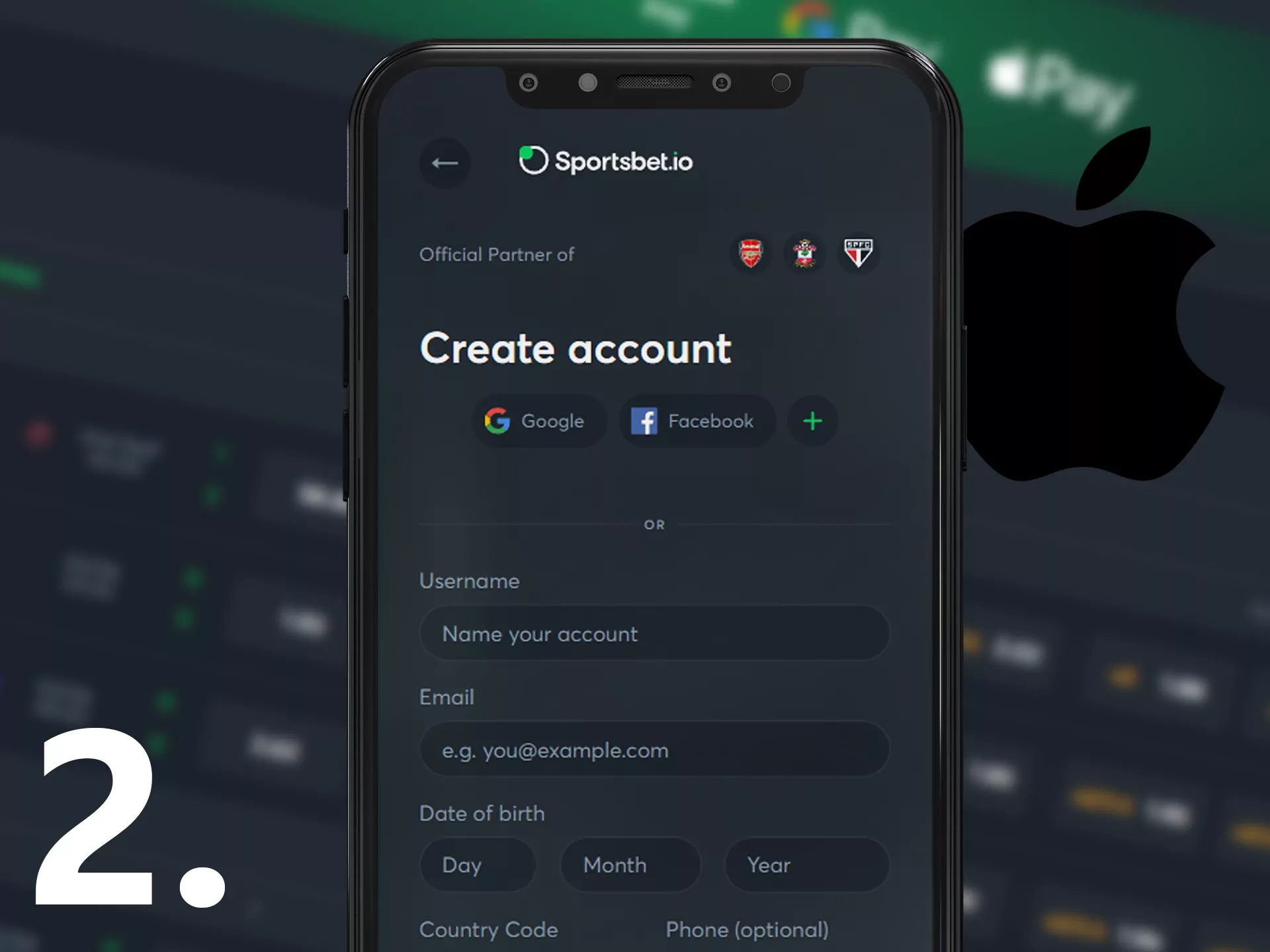 3

Step 3. Play Web Versions

Log in, fund your account and start betting on your favourite teams, or start playing at the online casino.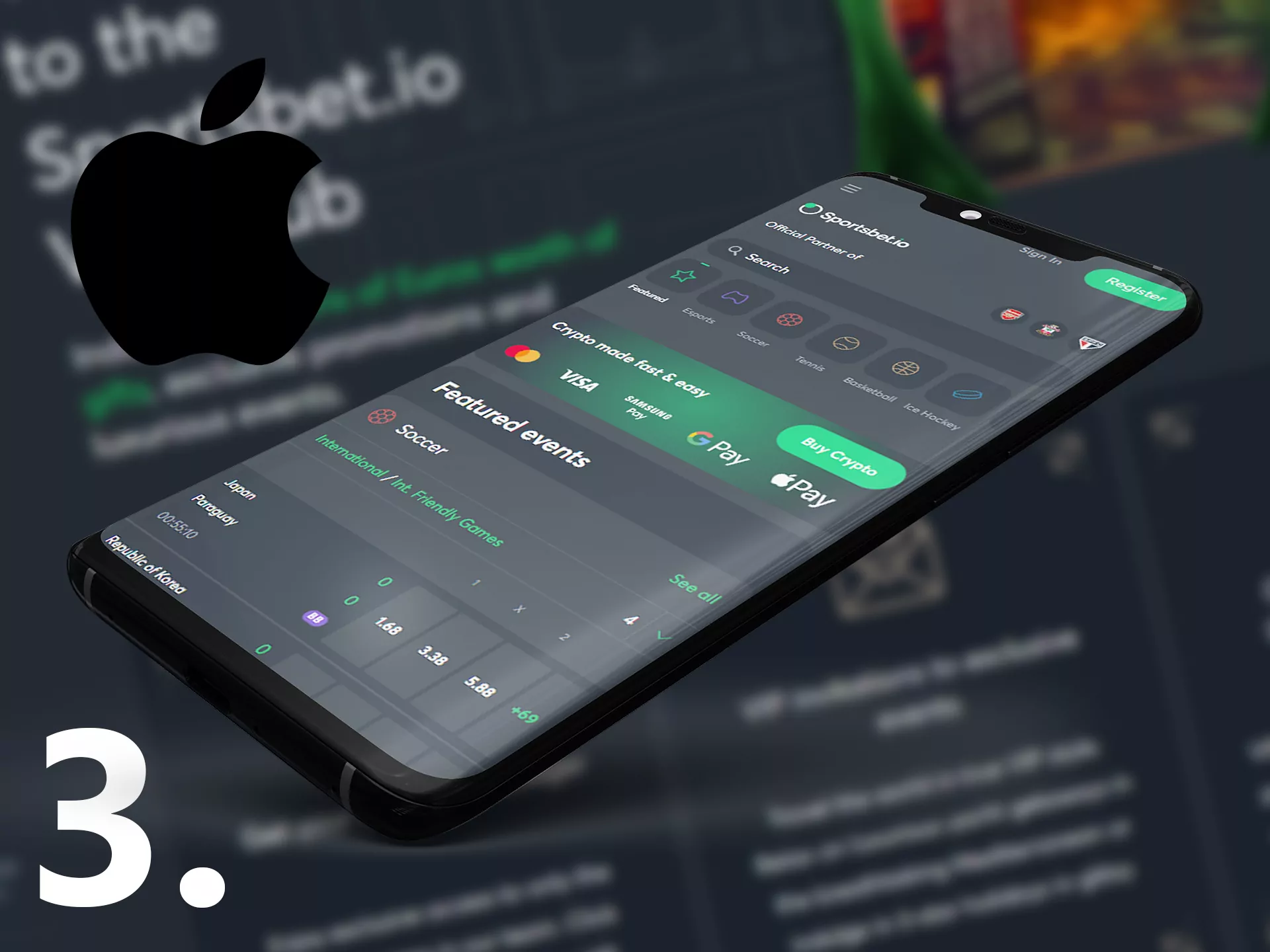 How to Install Sportsbet App?
So, in order to become a fully mobile user on Sportsbet, there are a few things you need to do:
Register your account online;
Download the installation file for the application;
Confirm that you can install programs from unknown sources;
Run the file and allow the application to install.
You can also use the adaptive web version of the bookmaker's office. It is available on both Android and iOS.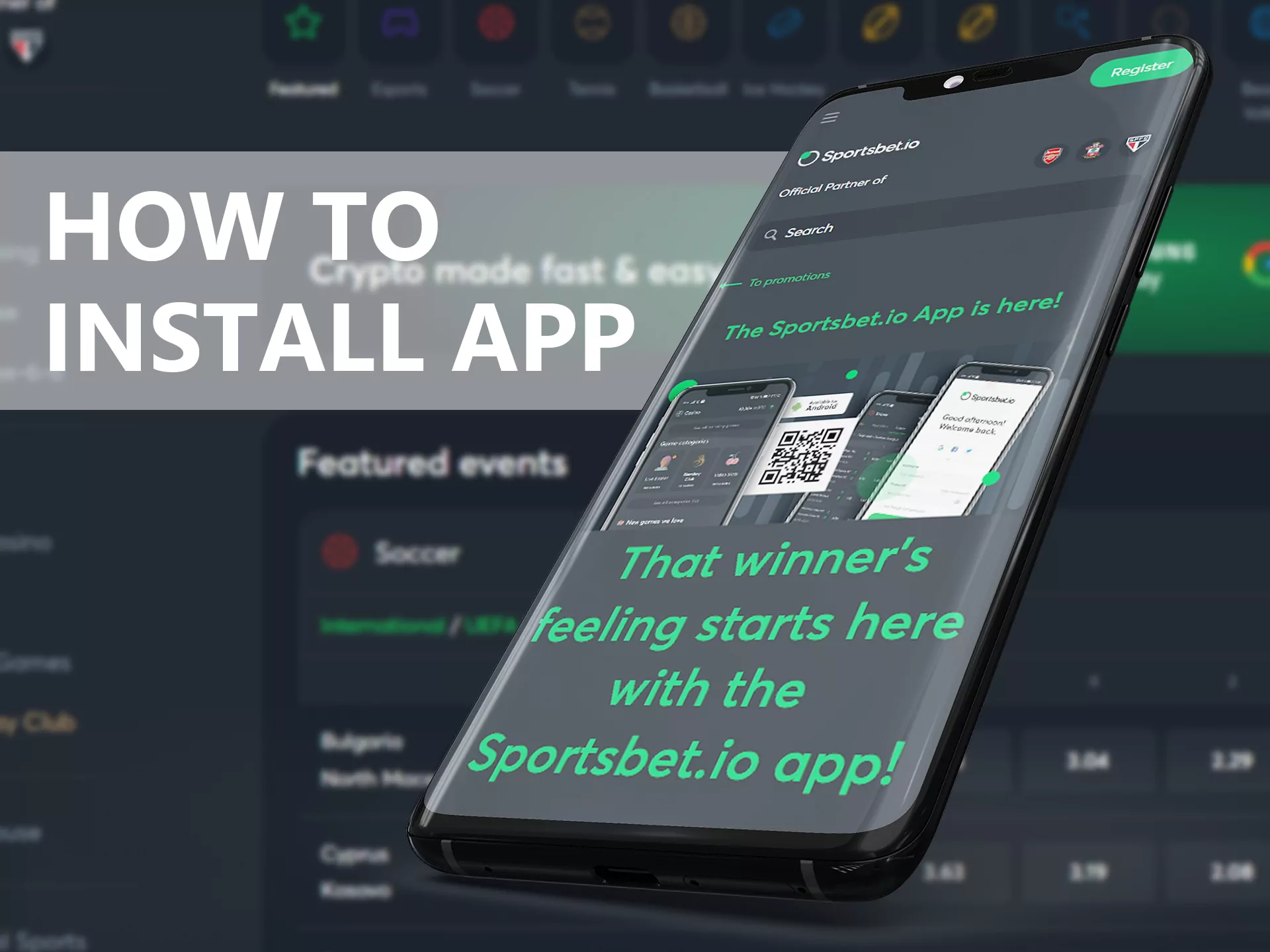 Registration via App
Until you create your own account, you will not be able to bet on sports or play casino games for money. You can sign in with an existing account if you already have one. Otherwise, you can create an account directly in the app. What you need to do to do this:
Launch the application. Open the software via the shortcut that appears on the desktop and in the program list after installing the software;
Open the registration form. On the start screen, click Create account;
Fill out the form. Specify personal data or click the button to create an account via social networks. After that, confirm the account creation.
In the final step, confirm the email address you gave earlier. Within a few minutes after completing the form you will receive an email with a confirmation link.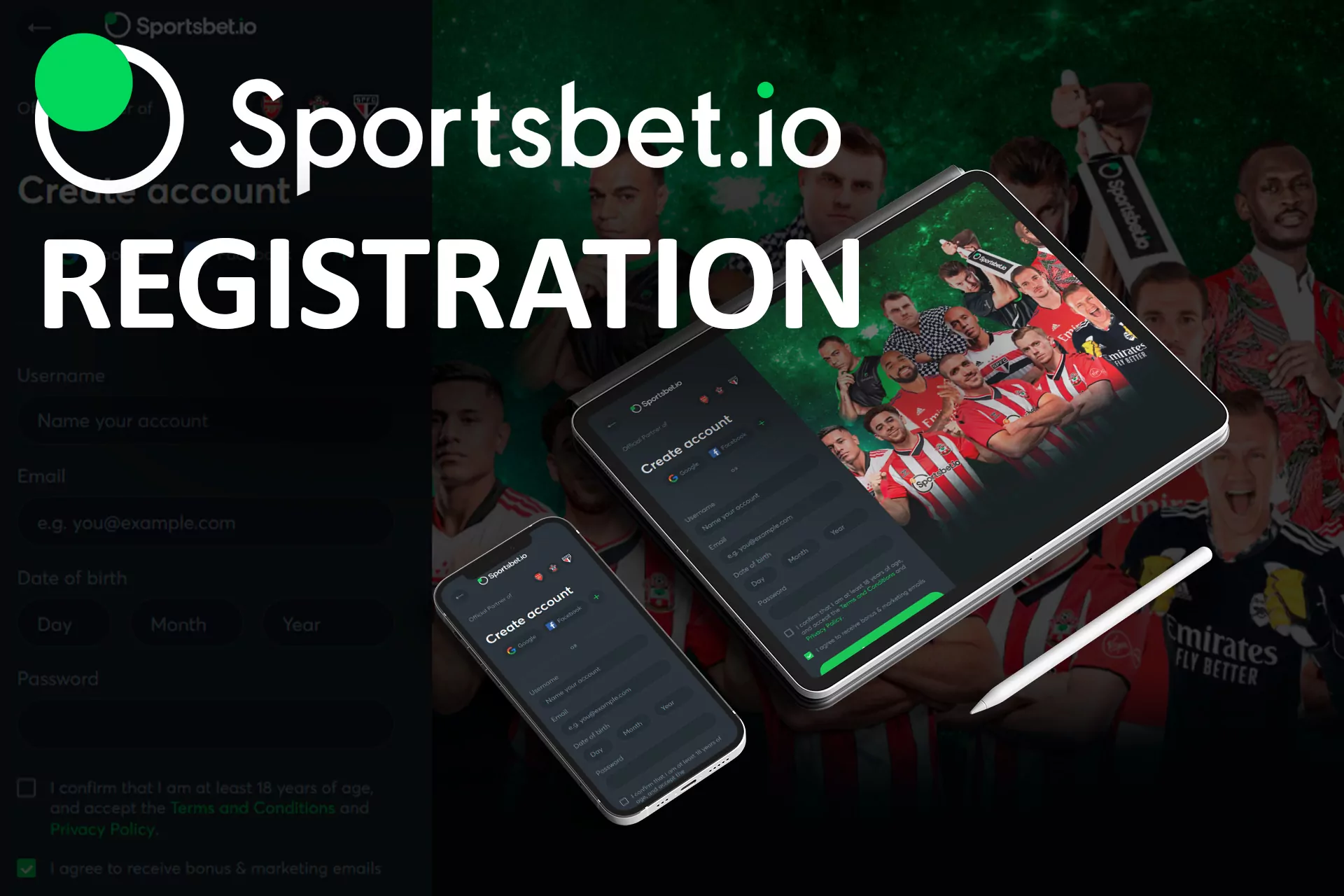 Welcome Bonuses
We have moved away from the classic system of player rewards and instead of the initial welcome bonuses, we offer to participate in dozens of regular promotions. They will allow you at different stages of the game to get extra money, free bets, and free spins in casino slots.
Betting Bonus
Choose one raise each day to bet on the sports and cybersports on offer. Place a reinforcement bet and try to get an even bigger payout if you are successful.
You can increase the price of each sport only once a day. For example, if you used this option to bet on football, you will only be able to activate it again the next day.
How to take advantage of the bonus:
Create a betting coupon and add odds to it;
Click on "Raise Price";
Specify the size of the bet within the given range;
Confirm action.
You will then be able to claim a larger payout if your bet is successful.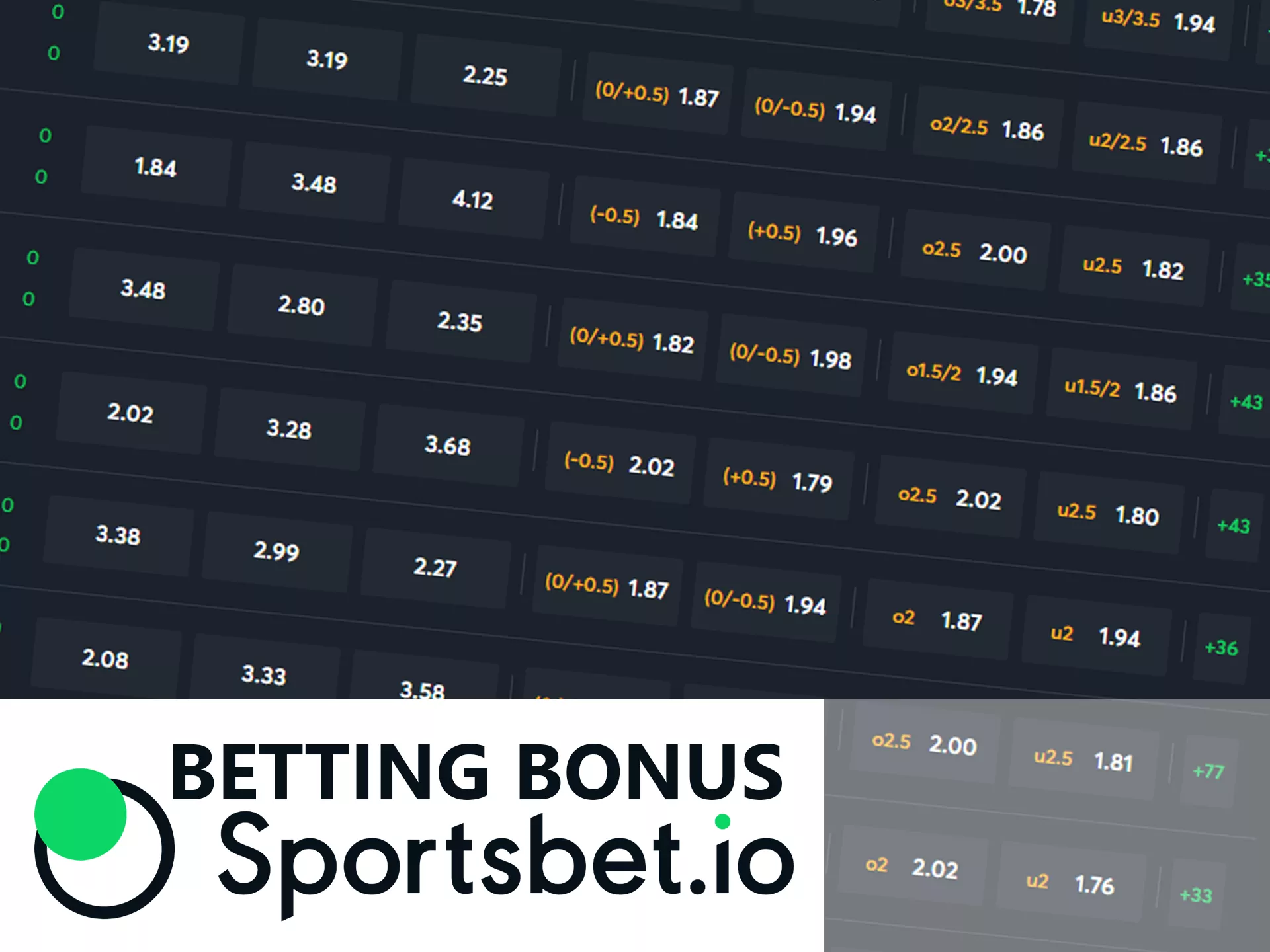 Casino Bonus
One of the most popular casino bonuses is the Hindi roulette bonus. To get it, you need to deposit at least 0.4 mBTC. The amount of bonus will be 0.2 mBTC or equivalent in another currency, which you can spend on playing Hindi roulette.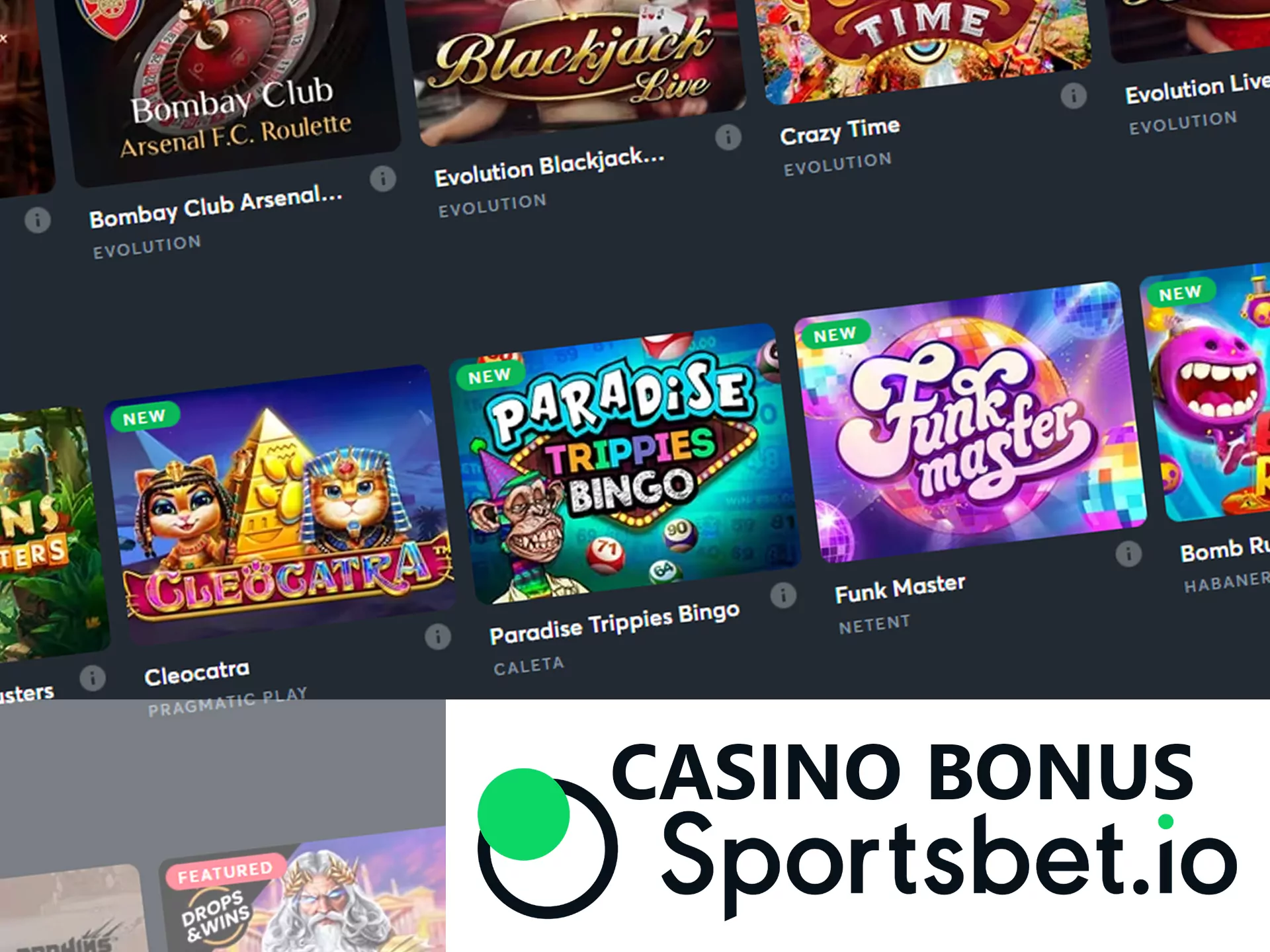 Payment Methods
Sportsbet India mobile app has been equipped with a full-fledged cash desk with the ability to make deposits and withdrawals. You can choose all payment systems available at the bookmaker's office, including a full list of cryptocurrencies:
Net Banking;
Bitcoin;
Tether;
Ethereum;
Litecoin;
Tron;
Ripple;
Dogecoin, etc.
The minimum deposit and withdrawal amount in the Indian currency equivalent is 500 INR. When making a deposit, the money will be deposited into the account balance instantly. Withdrawal is also quite fast, especially when using cryptocurrency wallets. Transaction processing takes no more than three hours on average.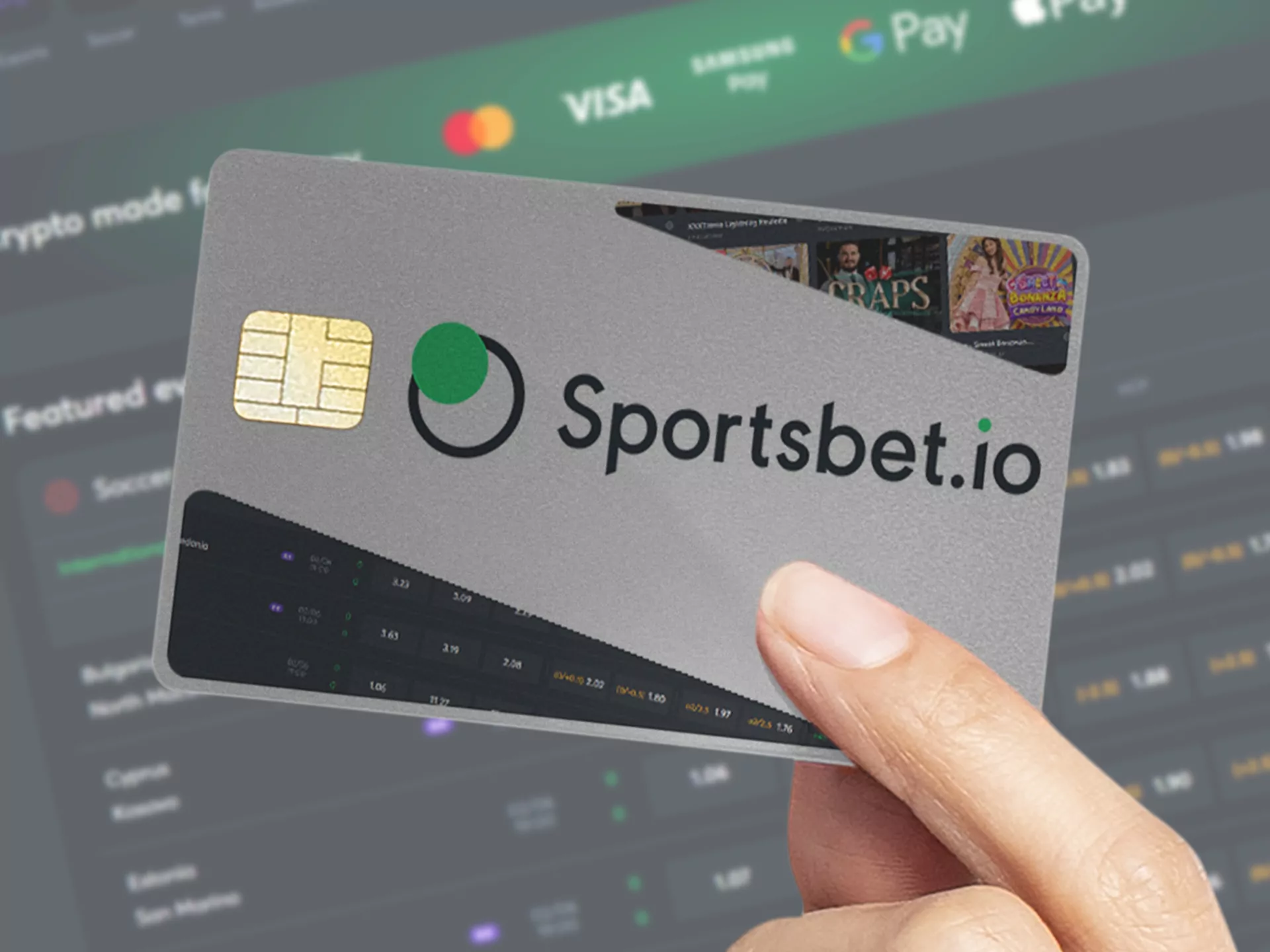 How to Update?
The Sportsbet mobile app for Android is updated semi-automatically. Each time you launch the software it will check if an update is required. If it is required, you need to agree to download and install the missing files. To do this you need to click on the appropriate button.
The update process takes from a few seconds to a few minutes depending on your internet speed.
You can also always download the current version of the Sportsbet mobile app on the bookmaker's website.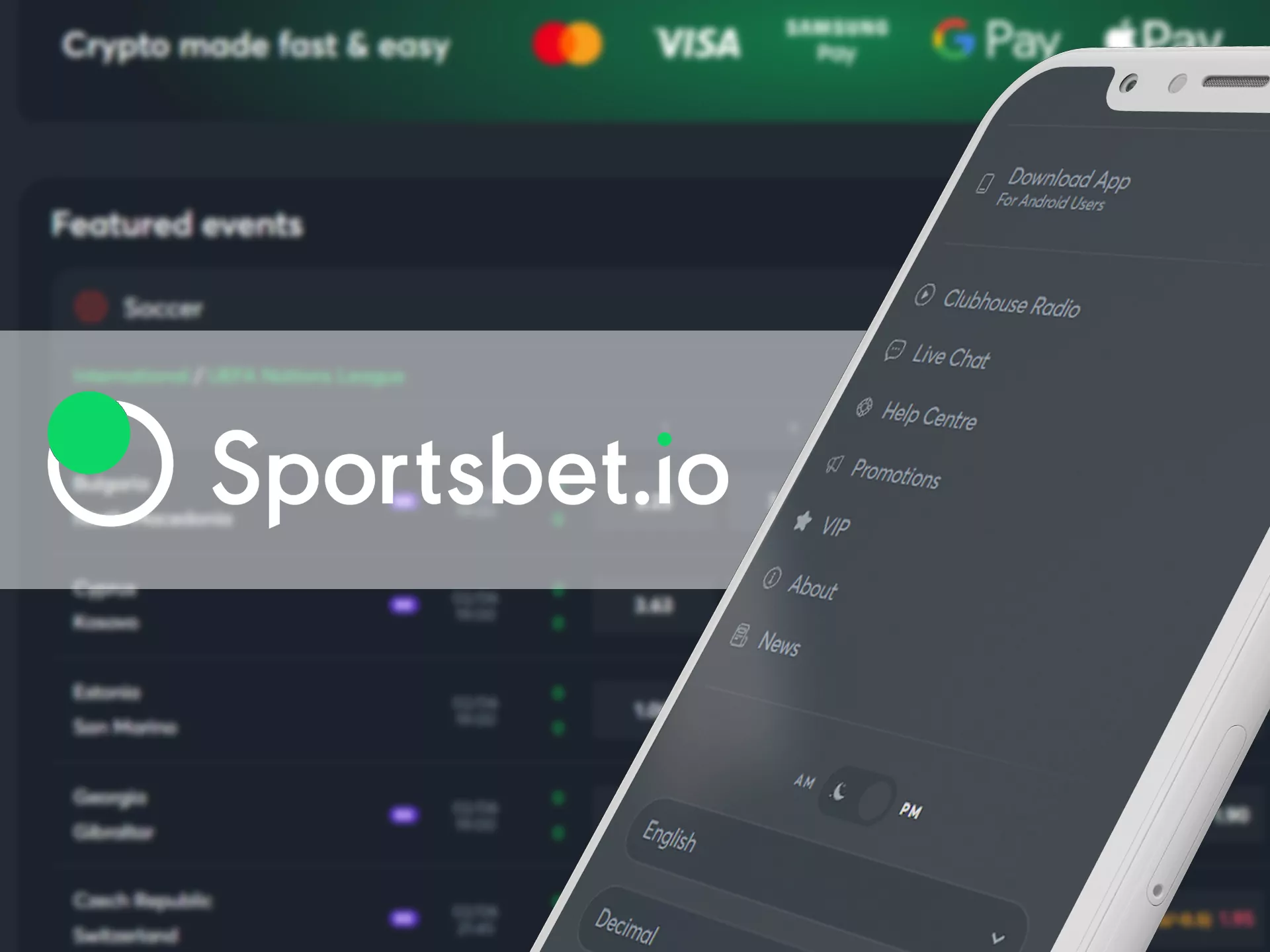 Login
The first thing you will see after launching the Sportsbet mobile app is the account sign-in form. Here you will need to enter your username and password and then click on Sign In.
You can also sign in via social networks if you have used them before.
Without an account, you will not be able to use most of the site's gaming features. The only thing that will be available to you is playing slots in demo mode for conditional chips.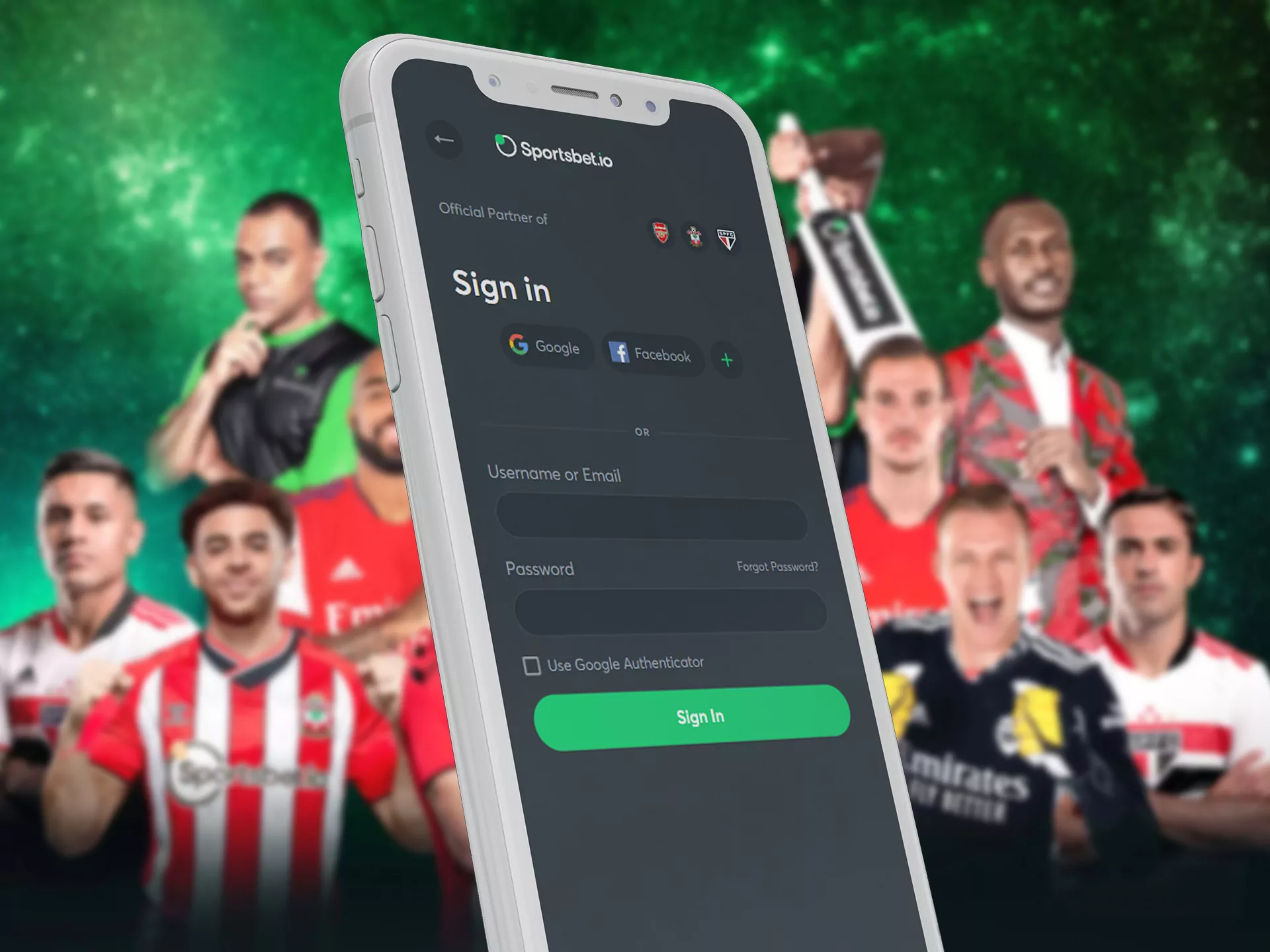 Sportsbet App Video Review
Find out all the most important things about our company by watching the short video we prepared for you. Here we have demonstrated how the software works and talked about its key features and benefits.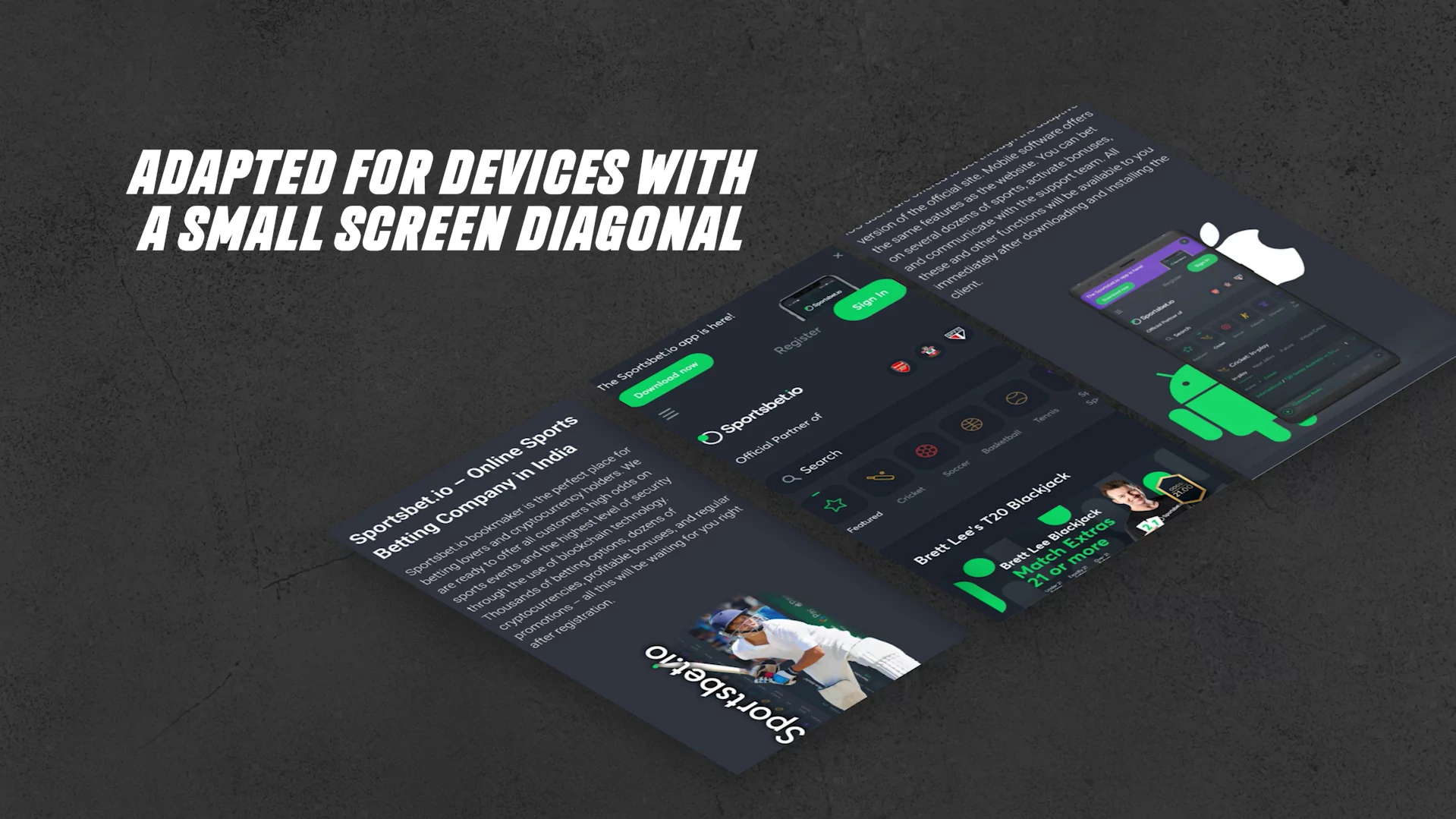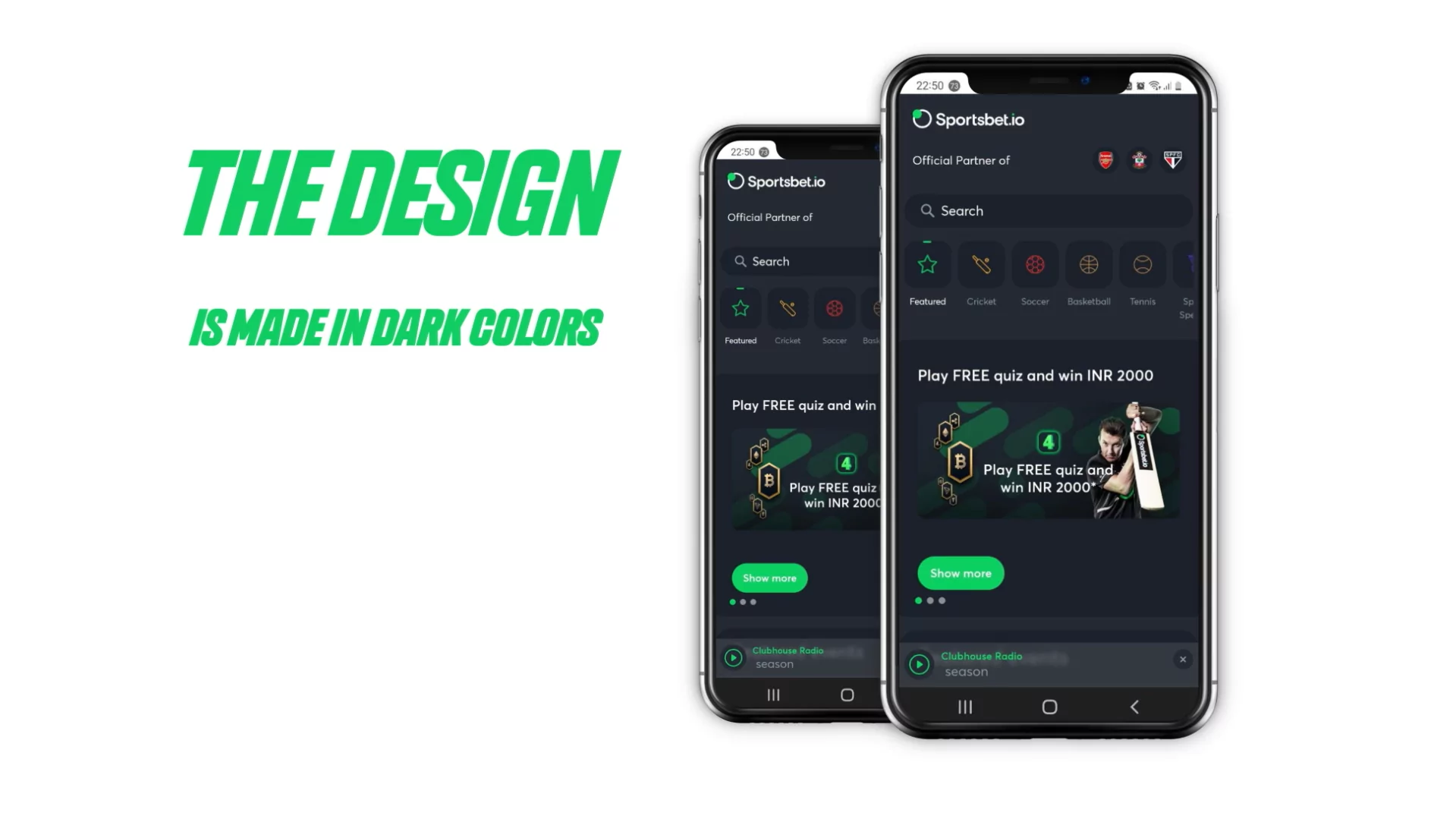 Sports Betting
Sportsbet India mobile app supports all types of betting and all sports destinations available at the bookmaker. After logging into your account, you will be able to choose from dozens of destinations. Four sections are particularly popular.
Cricket App
The large selection of cricket betting events is one of the major benefits of the Sportsbet mobile app for Indian players. Dozens of matches on various national and international competitions will be available to you here:
Indian Premier League;
Inter-Provincial Twenty20;
Big Bash League SRL;
Pakistan Super League SRL;
T20 Series Sri Lanka vs Pakistan, Women;
Womens T20, Challenge;
NatWest T20 Blast.
You can bet on a variety of outcomes with varying levels of risk. The safest predictions will be on the winner. However, you can always try to predict who will be the best player, how many runs, etc.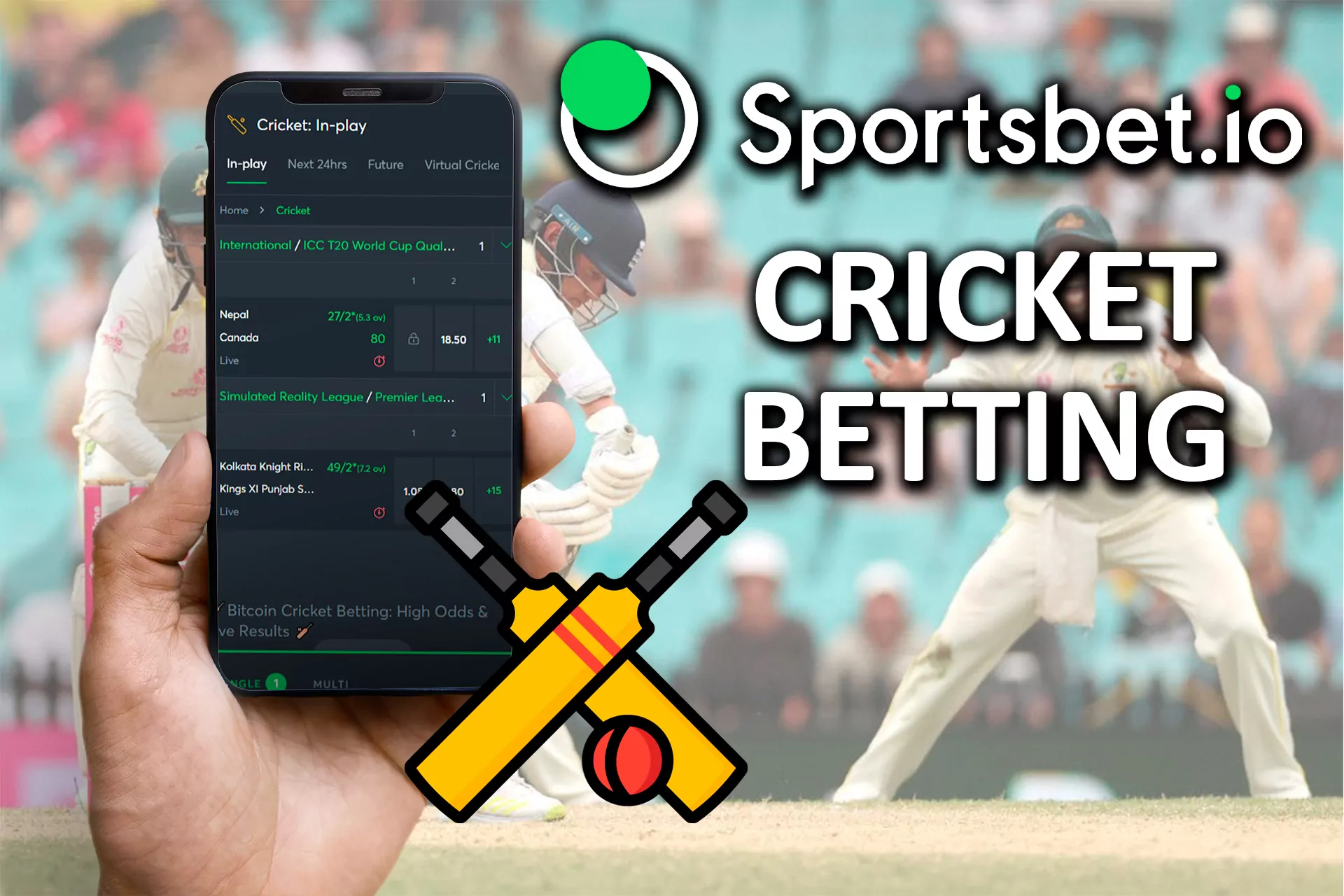 Kabaddi App
The matches of this sport are not played very often, but you can always bet on one of the events within the Major League Kabaddi. And we will try to compensate for the small selection of matches by a wide variability of odds and outcomes in each of them.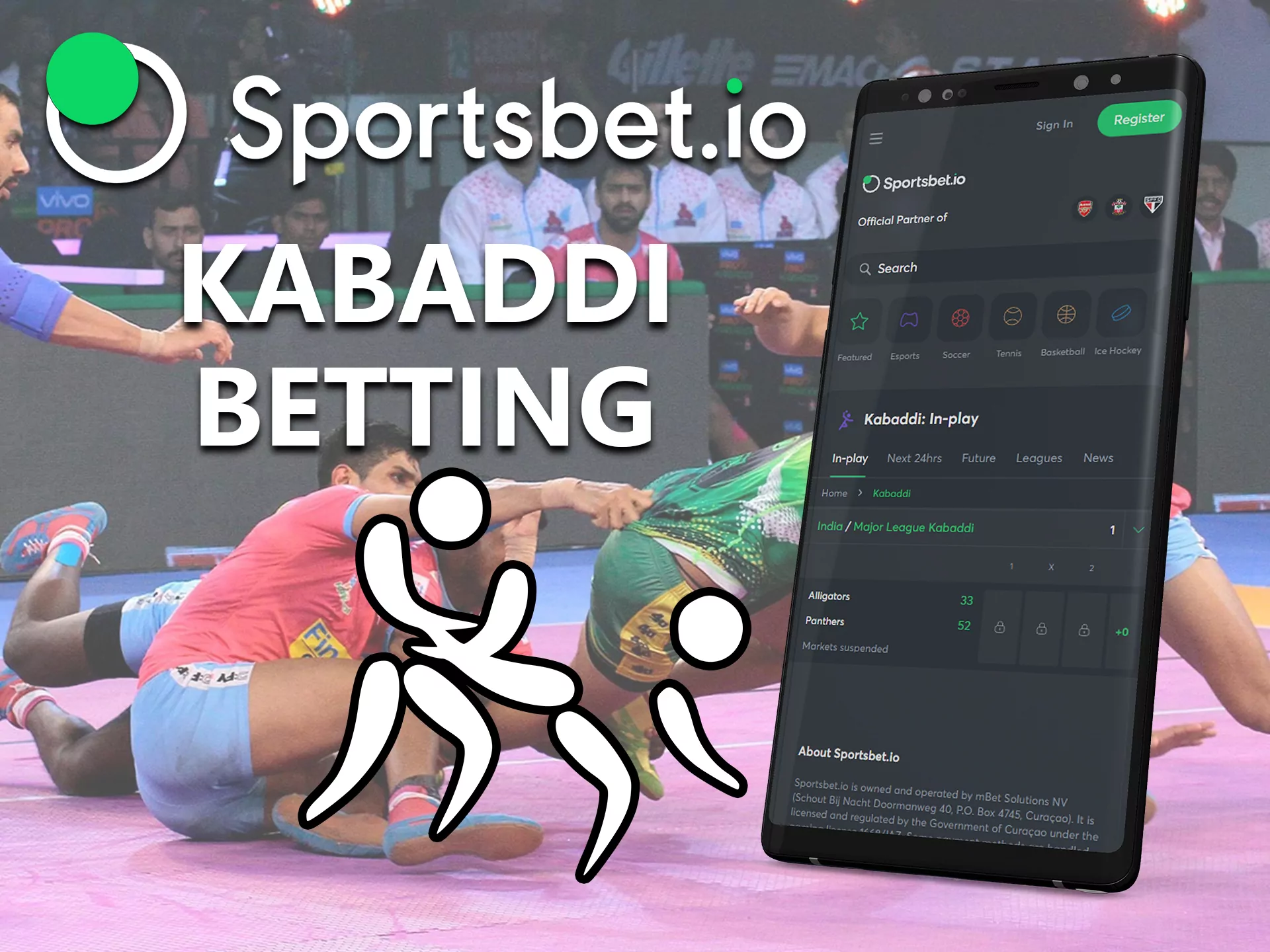 Football App
Place your football bets on the Sportsbet mobile app. You will have access to hundreds and thousands of matches in national championships and cups, international competitions, matches of national teams:
UEFA Champions League;
Brasileiro Serie A;
CFL;
England Premier League;
Italy Serie A;
Germany Bundesliga;
Spain La Liga, etc.
Football is the most extensive and diverse category for betting at Sportsbet.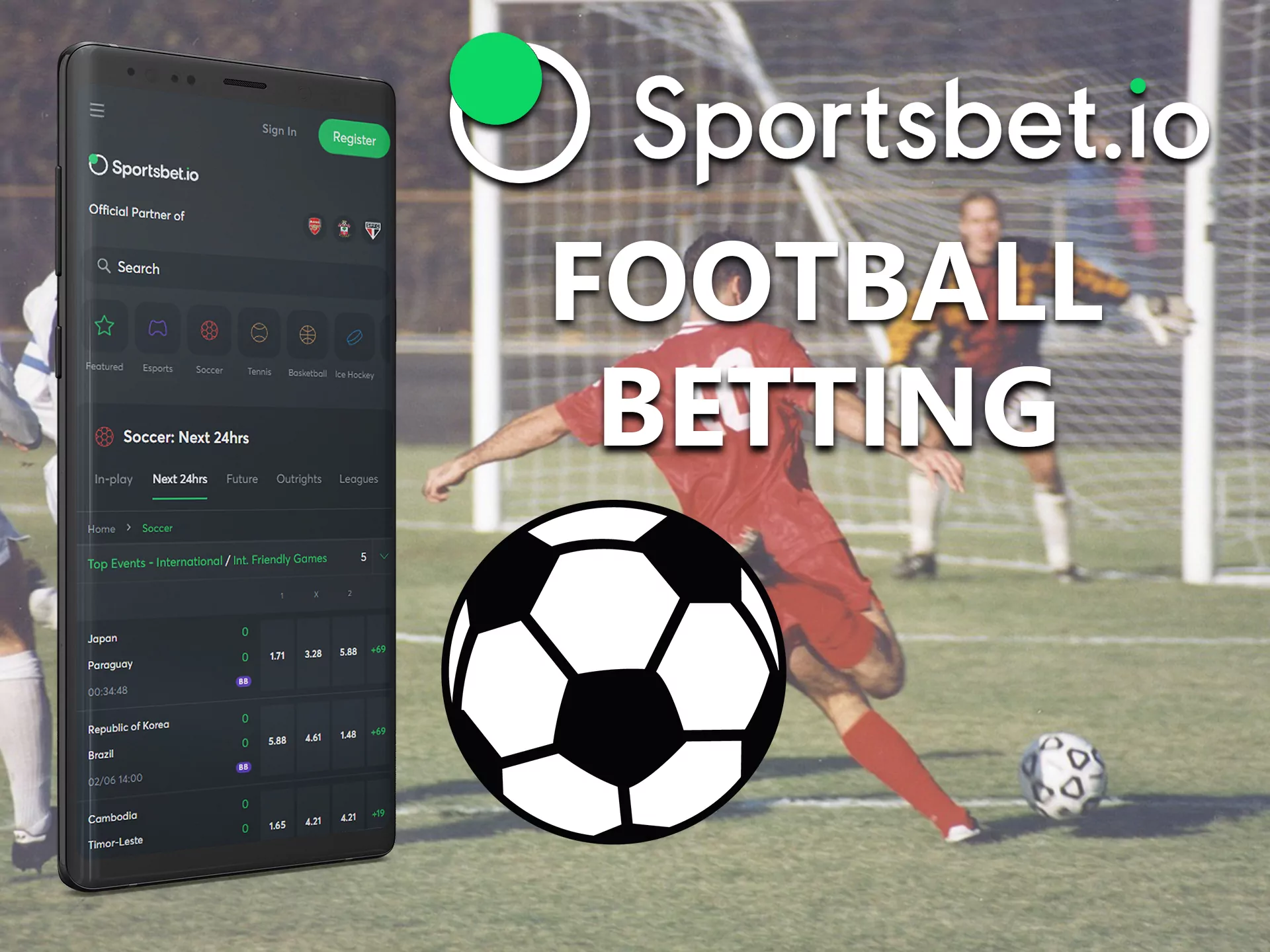 Esports Betting at the App
Cybersport has long been an equal destination for betting with classic sports. And the choice of events and directions here is as wide as in other more usual disciplines. For cybersports on Sportsbet India there is a separate category. In it you will be able to bet on competitions in the following games:
Dota 2;
CS:GO;
LOL;
StarCraft 2;
WarCraft 3;
Valorant;
Rocket League, etc.
Cybersports will be of particular interest to young users who are into computer games.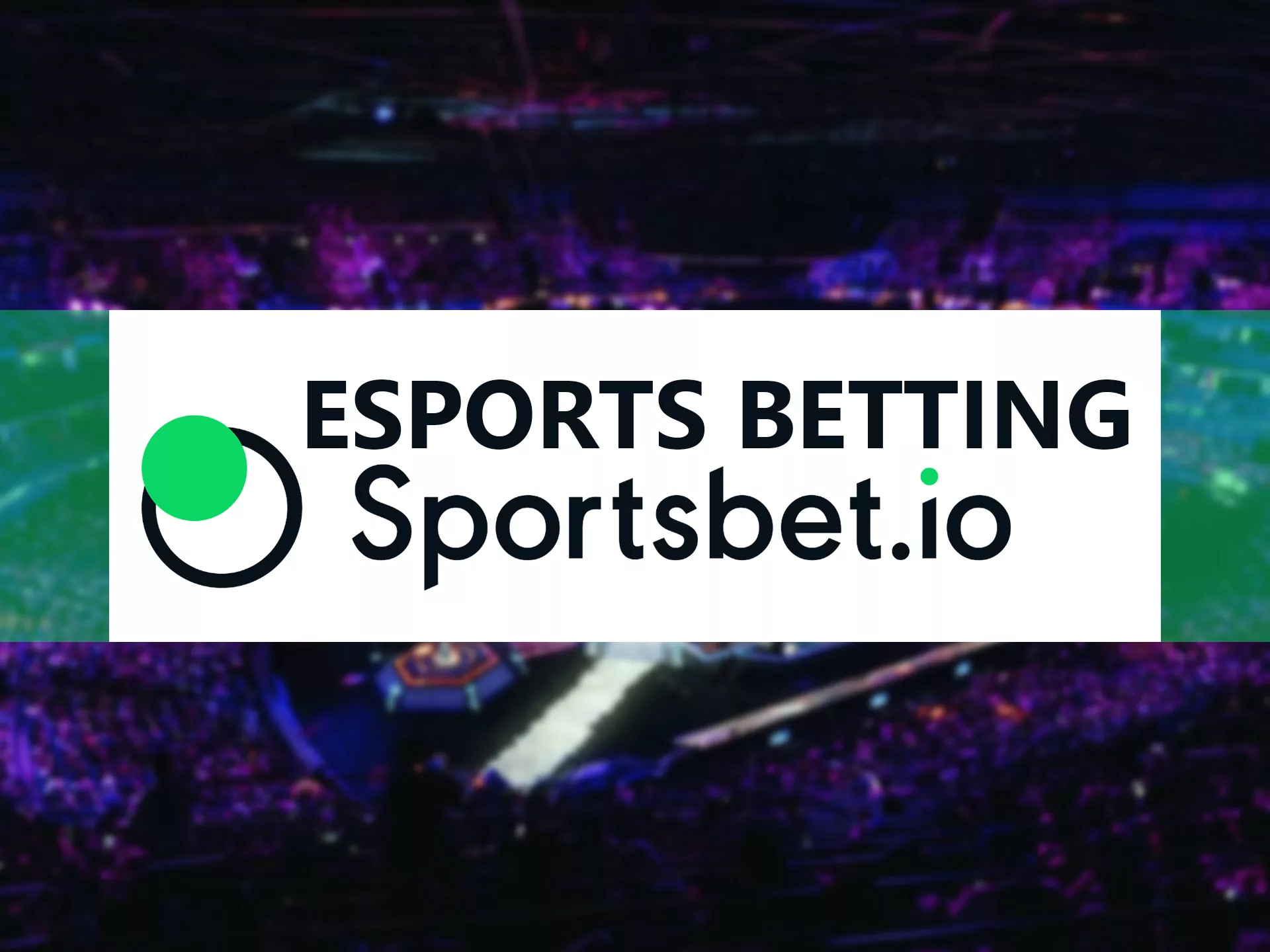 Virtual Sports Betting at the App
Virtual sports is a separate field, which is something in between classic sports betting and casino games. The matches here are simulated by the computer, so the final results largely depend on luck. The Sportsbet mobile app offers a variety of virtual sports:
Football League;
Greyhound Racing;
Horse Racing;
Speedway Racing;
Motorbike Racing.
Choose an entertainment, launch it, specify the outcomes and make bets. The advantage of such games over classic bets is faster calculation and higher payout odds.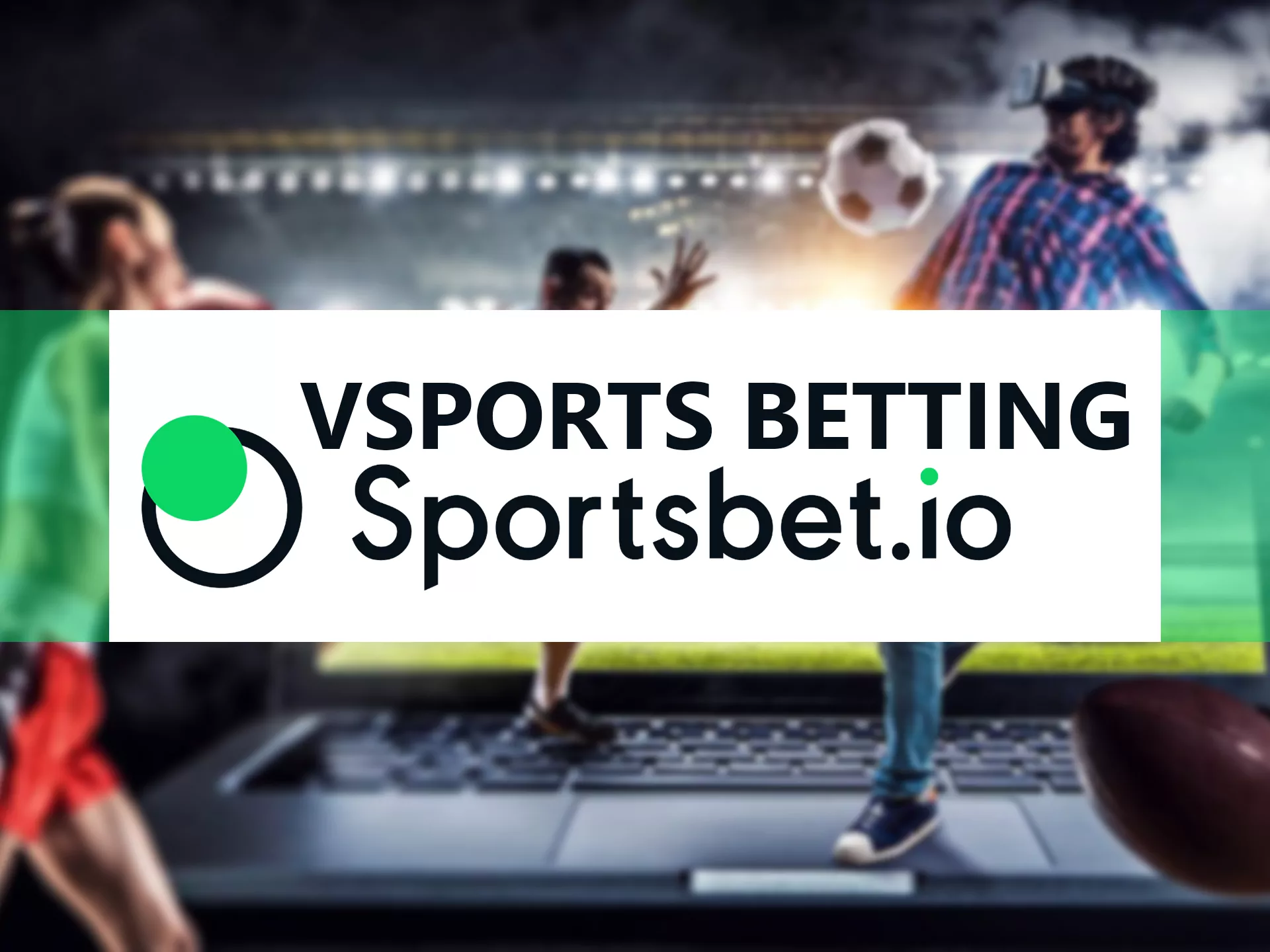 Type of Bets
Once you have added one or more outcomes to the betting slip, you can select the type of bet before confirming the bet. The mobile app supports two basic types of betting:
Singles. They are made on one particular outcome with one odds. The advantage of single bets is a relatively low level of risk. But payouts also in most cases range from x1.01 to x3;
Express. Two or more outcomes take part in a Parlay, and their individual odds are multiplied by each other. This makes it possible to claim a larger payout. But the condition for winning is the winning of each individual bet. If you make even one mistake, you will lose money.
Selection of the bet type is only available at the stage of filling in the coupon. Once a bet has been confirmed, it will no longer be possible to change its type.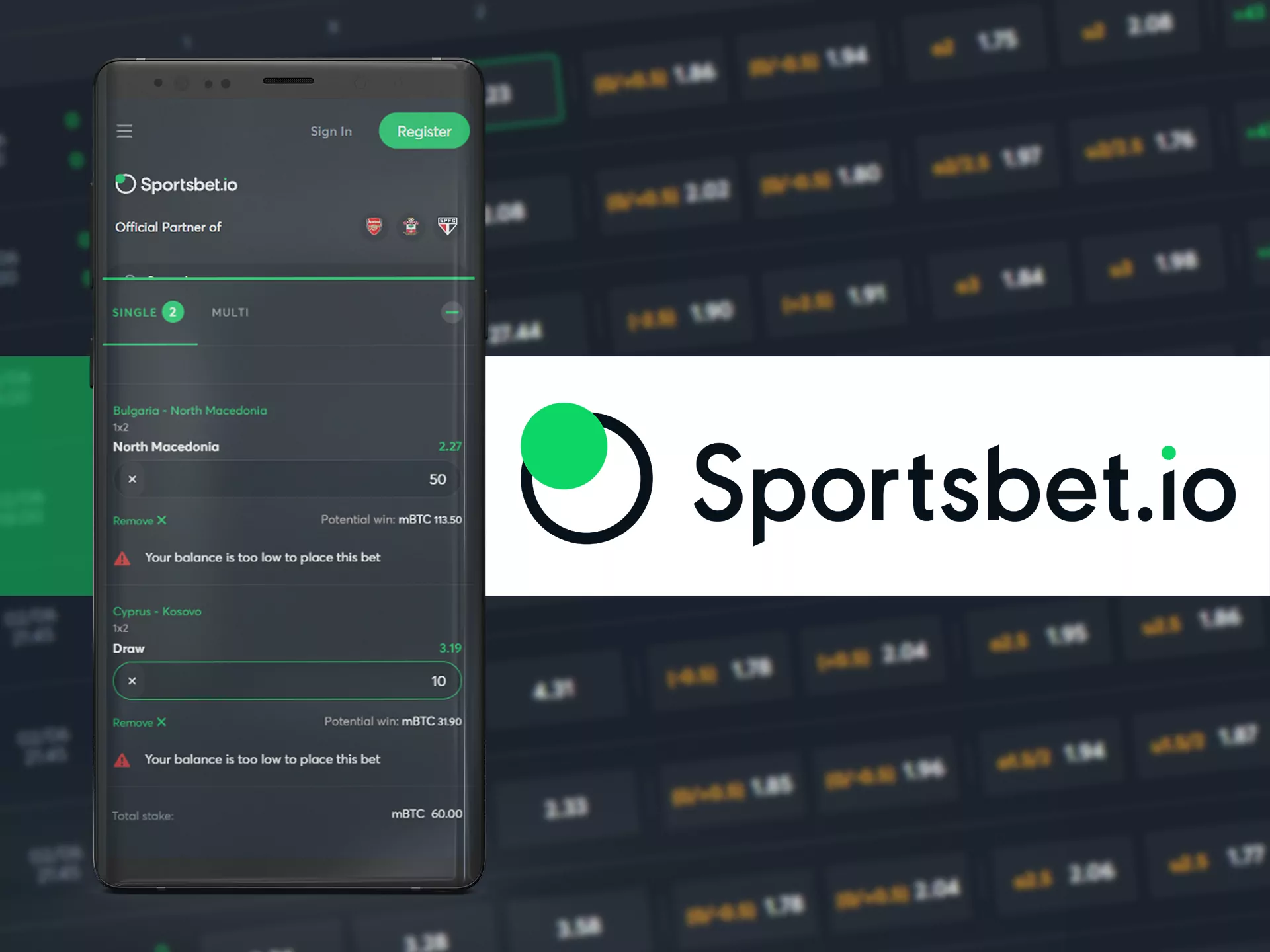 Betting Options at the App
Depending on your preferences, your knowledge of the sport, and your betting style, you can choose between two basic betting options:
Line. This section includes events that have yet to start. They start after a certain time, which allows you to think over your bet and assess all the risks;
Live. Betting on live matches, that is, while they are taking place. Since the odds here can change rapidly, it is important to be able to react quickly to changes in the sporting event.
Choose the option that suits you best and start betting on sports in the Sportsbet India mobile app for Android and iOS.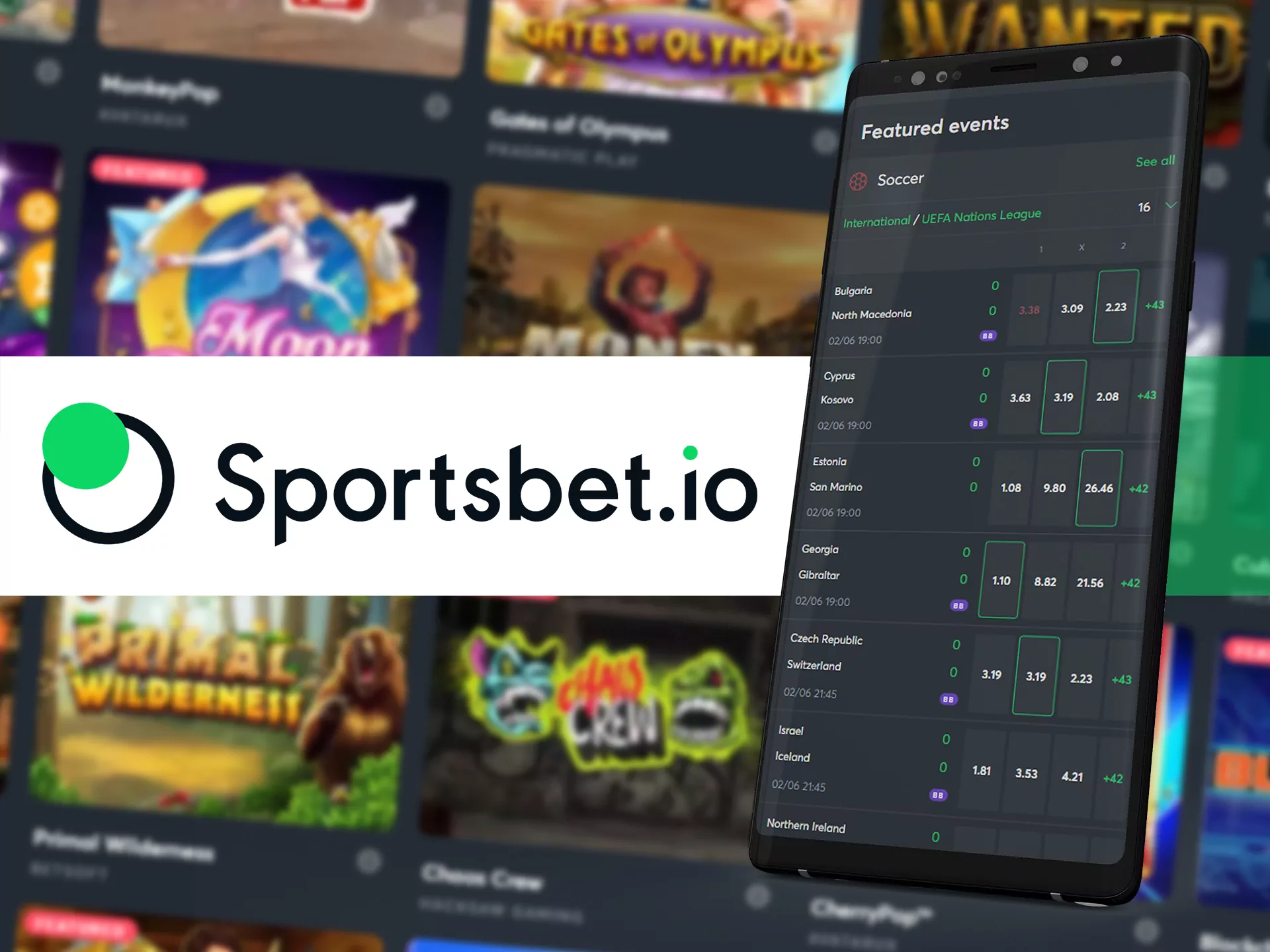 Sportsbet Casino App
In addition to sports betting, there is an Sportsbet casino section available on the Sportsbet mobile app. It is divided into two categories. These are slots and live games. Within these sections, players are offered thousands of gambling entertainments, which can be played both for real money and for contingent chips. Thanks to high-quality optimization, all games work properly on smartphones and tablets.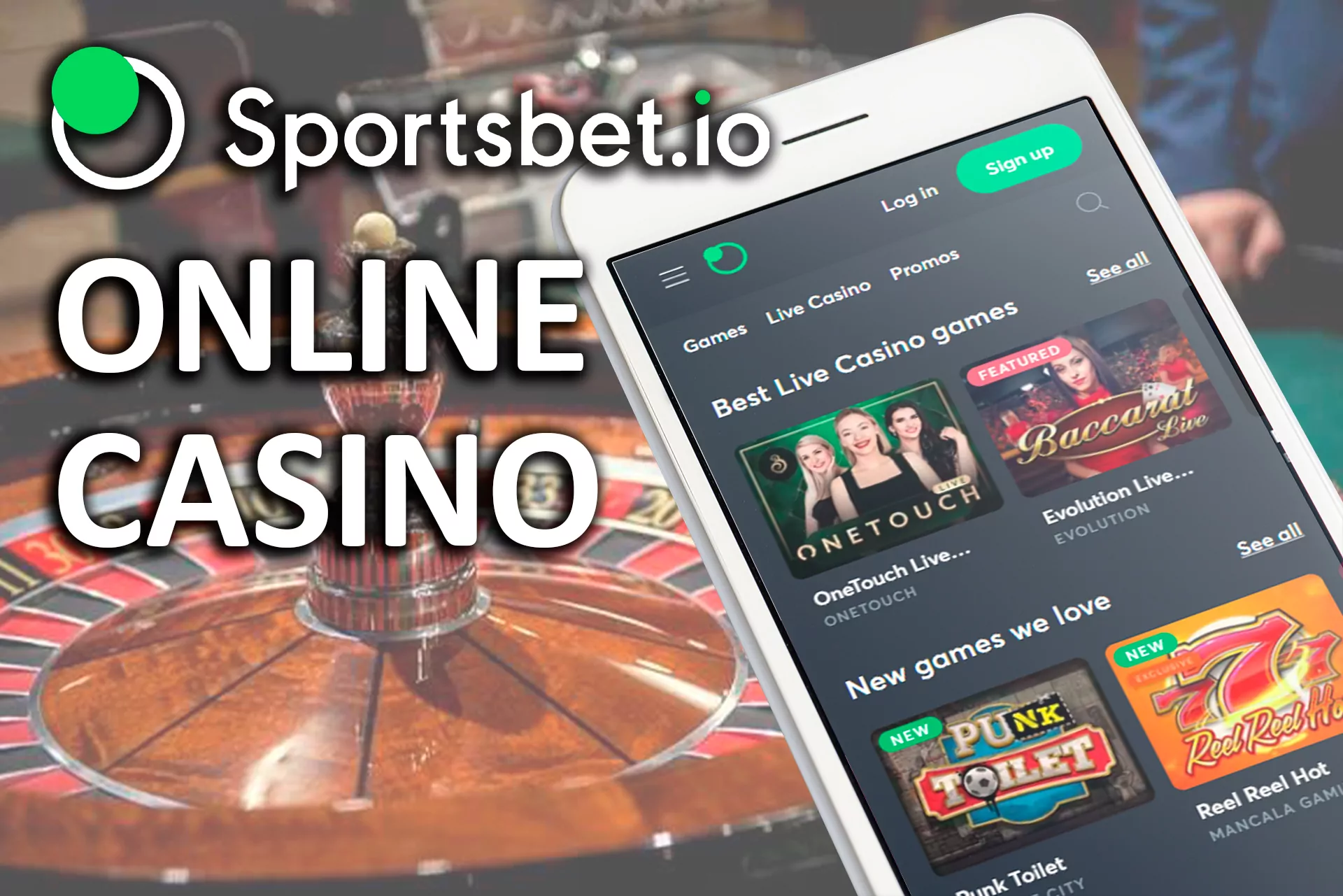 Casino Games at Sportsbet App
All the gambling entertainment offered at Sportsbet Casino can be roughly divided into several categories by type:
Slots. Slot machines are based on a random number generator. Presented slots from dozens of popular providers;
Poker. Video poker with payouts for collecting specific combinations, as well as live poker against a live dealer;
Baccarat. A popular card game in which you have to bet on one of three outcomes. Available in Slots and Live modes;
Jackpots. Games that take part in the drawing of large prize funds. They can be either fixed or cumulative;
Lotteries. Bingo, Keno, and other lotteries where you can buy a ticket and receive payouts for matching numbers.
Many machines can be played in demonstration mode. This is a test version of slots with bets on conditional chips in which you can test the development, and assess the level of its payoff, functions, and mechanics.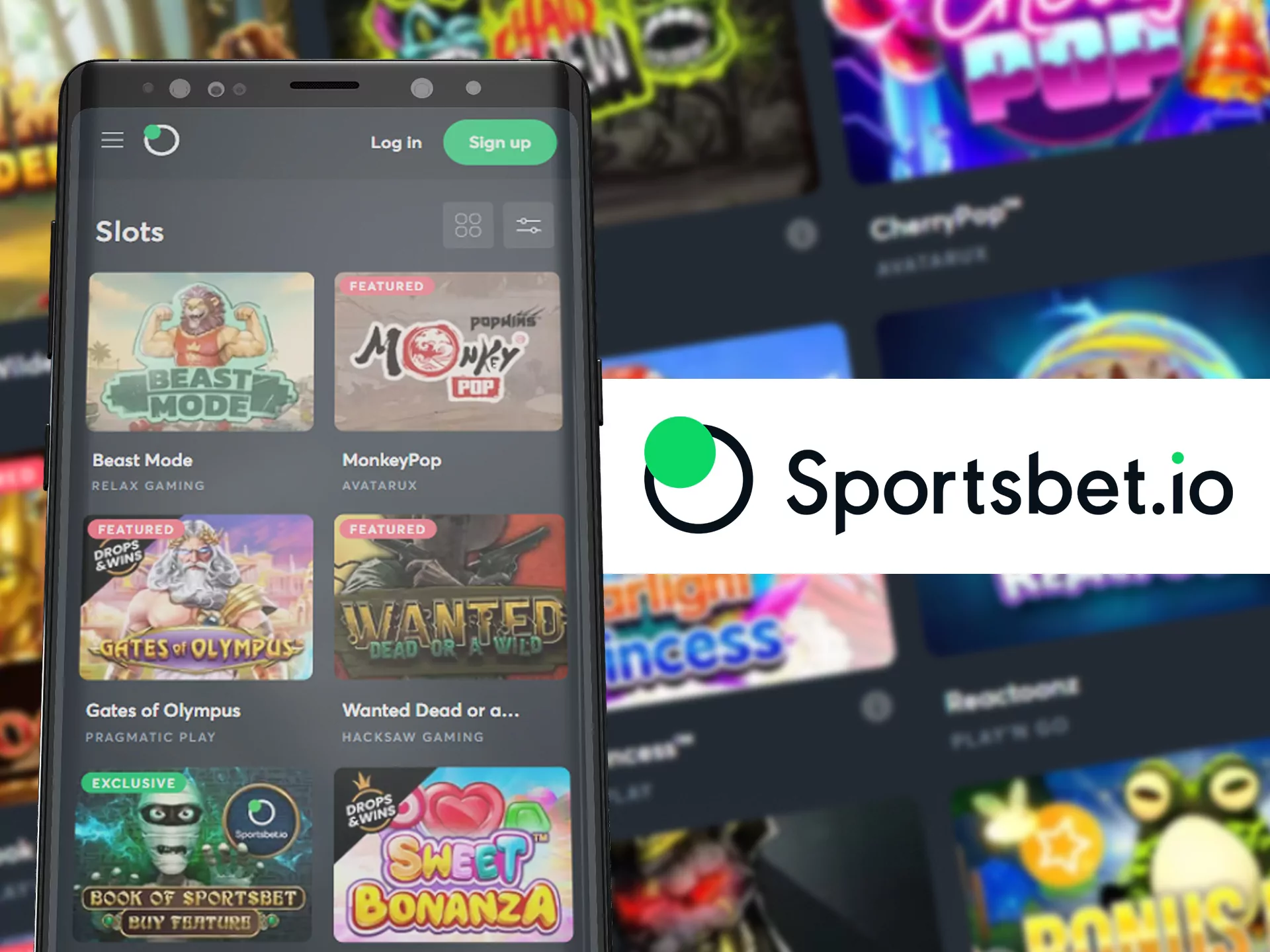 Sportsbet Mobile Version (Website Version)
Every user who, for one reason or another, cannot download the mobile app, can place bets via the web version. It has an adaptive design and offers customers the same wide range of gaming features and functions.
The design of site is designed so that it automatically adjusts to the screen size of the device from which it is viewed. This makes the interface and navigation easy to use.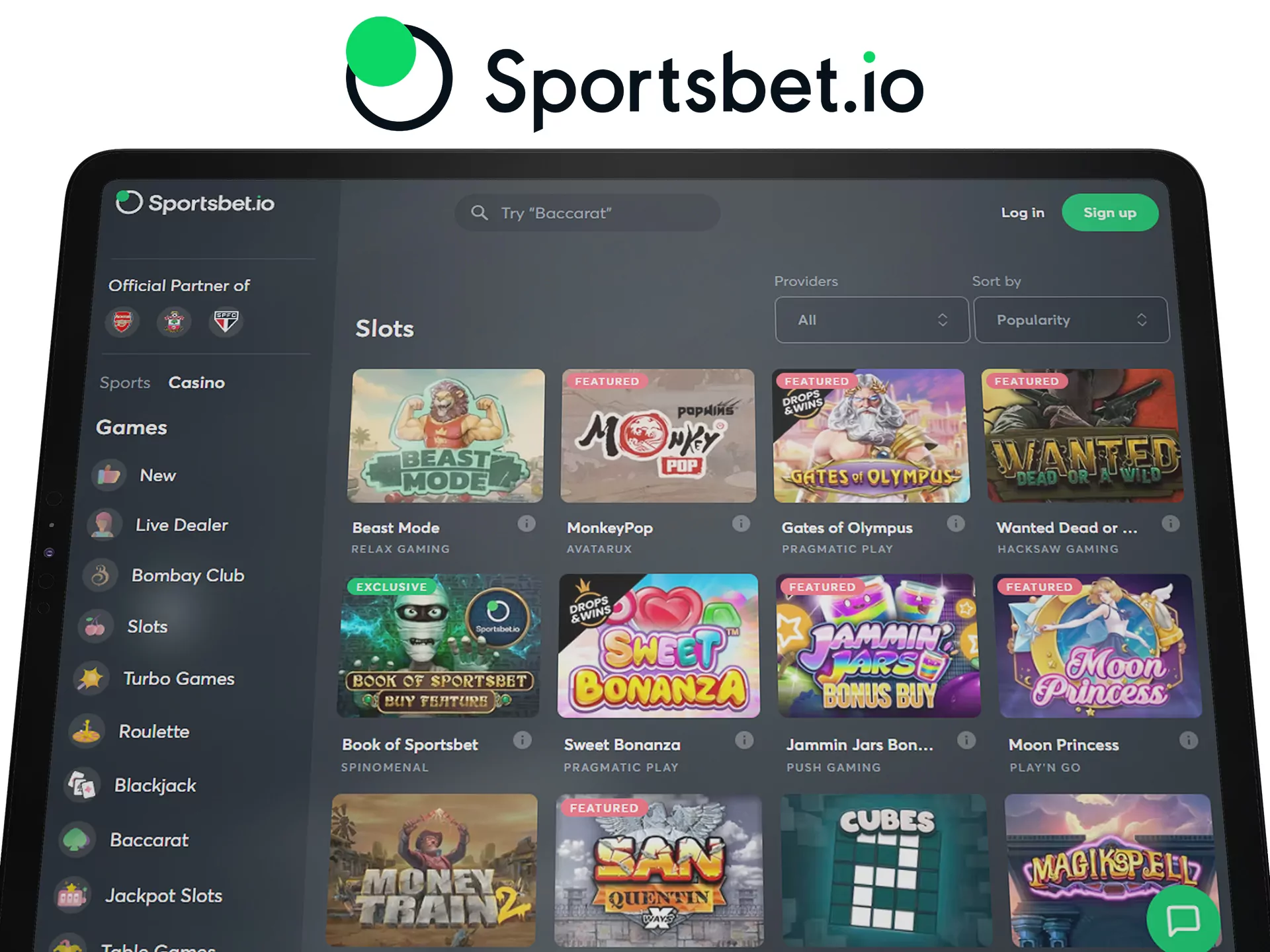 Differences Between App and Mobile Website
There is no difference between the web version and the Sportsbet app in terms of gaming features. But they are different in some points.
| Application | Web Version |
| --- | --- |
| Requires you to download and install on your smartphone. | No download required. You can play in your browser. |
| There are minimum technical requirements for stable operation. | Runs on all smartphones regardless of their specifications. |
| Has a faster interface. | Runs slower than the app. |
| Various customization settings are available. | The set of settings is noticeably smaller. |
You can combine play in both versions, or prefer one of them.
Features of Sportsbet App
Sportsbet India mobile app is one of the highest quality and most functional applications in the sports betting market. Each user will have a wide range of benefits available to them right after downloading and installing the software.
High Working Speed
The app is perfectly optimized, making it run fast even on outdated smartphone models.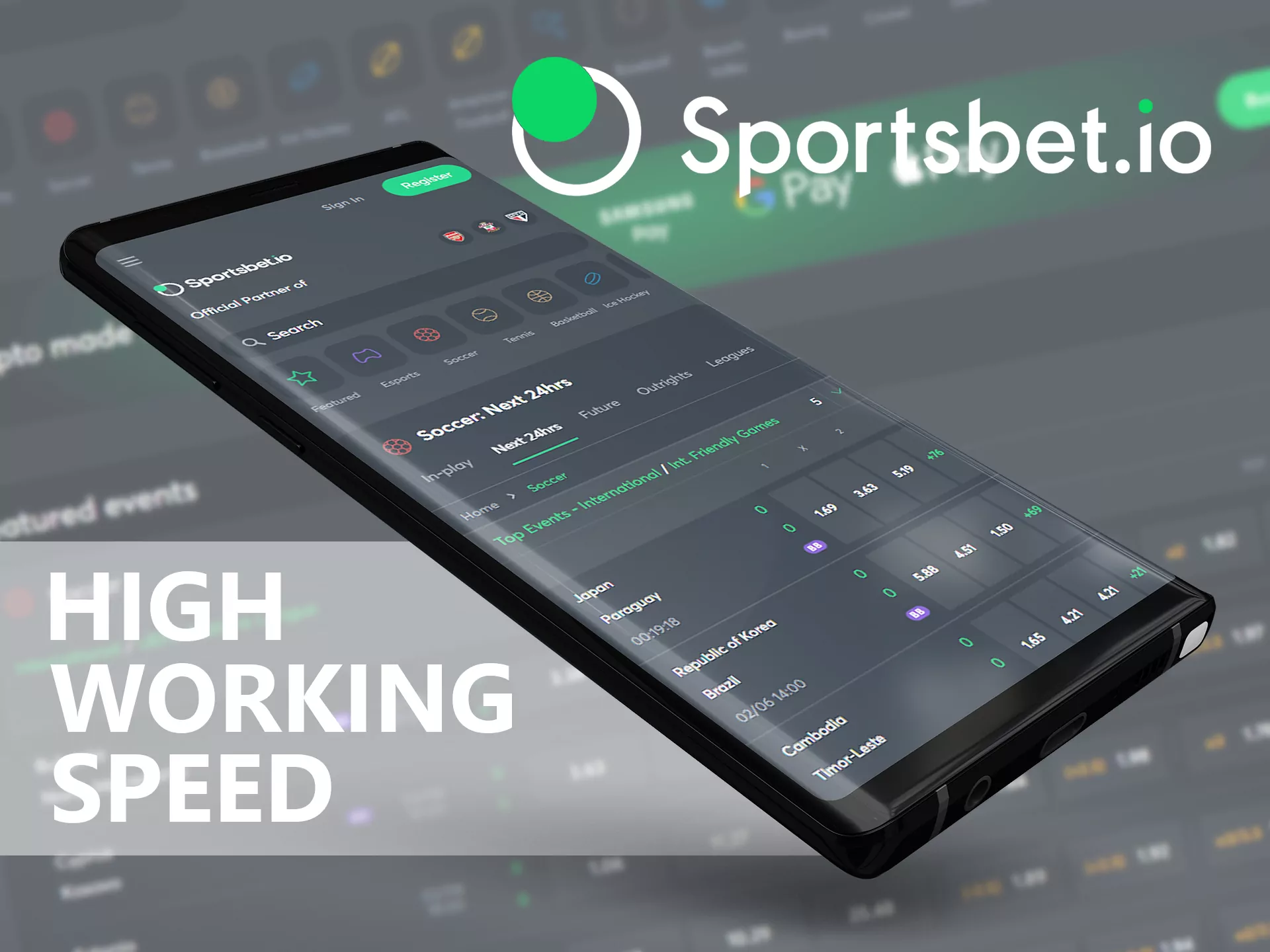 Adaptive Interface
The design, navigation, and interface were originally developed taking into account the small size of mobile phone screens.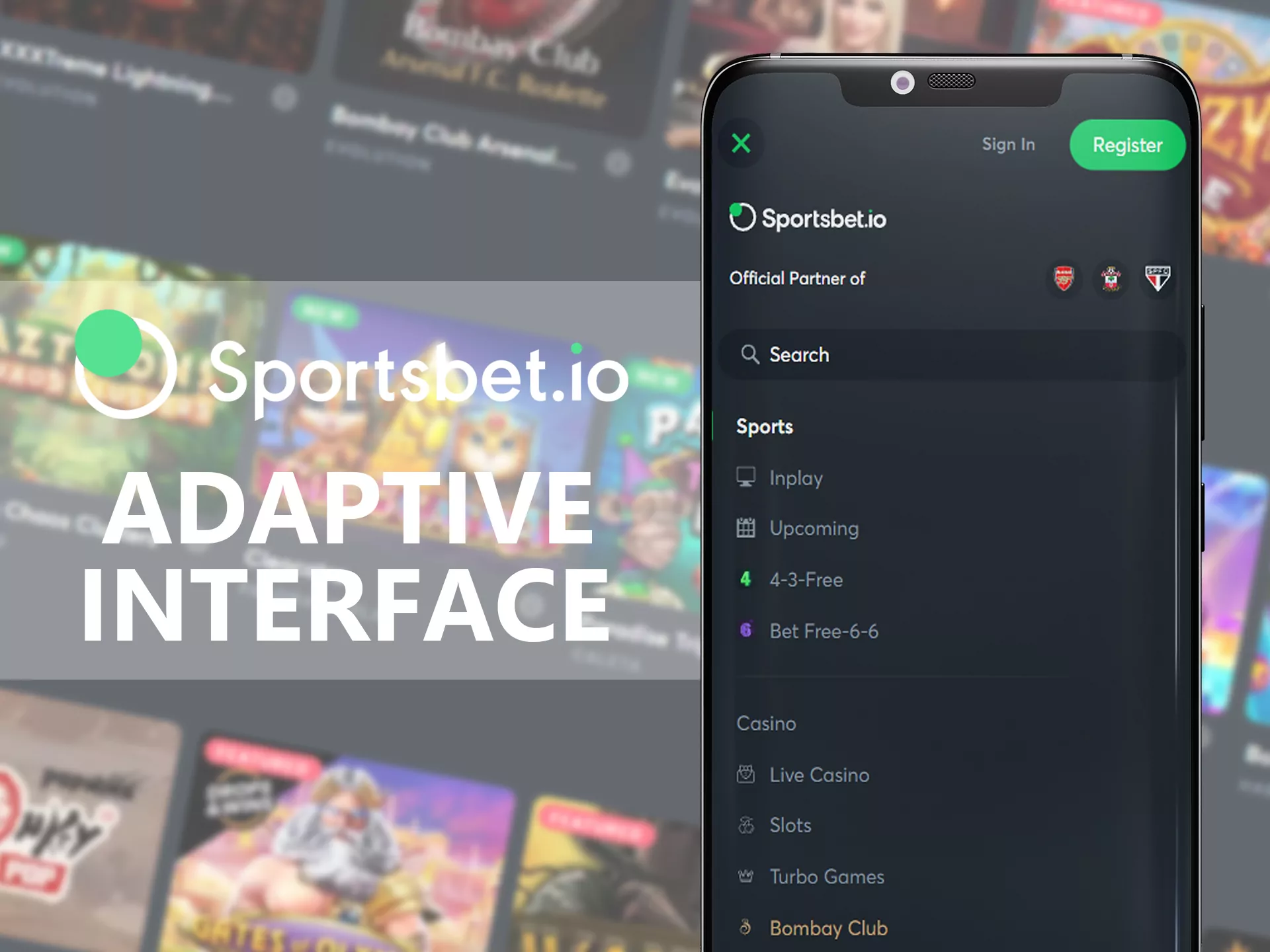 Wide Range of Settings
You can customize the app to make it even more convenient to use. This applies to sound, graphics, notifications, and much more.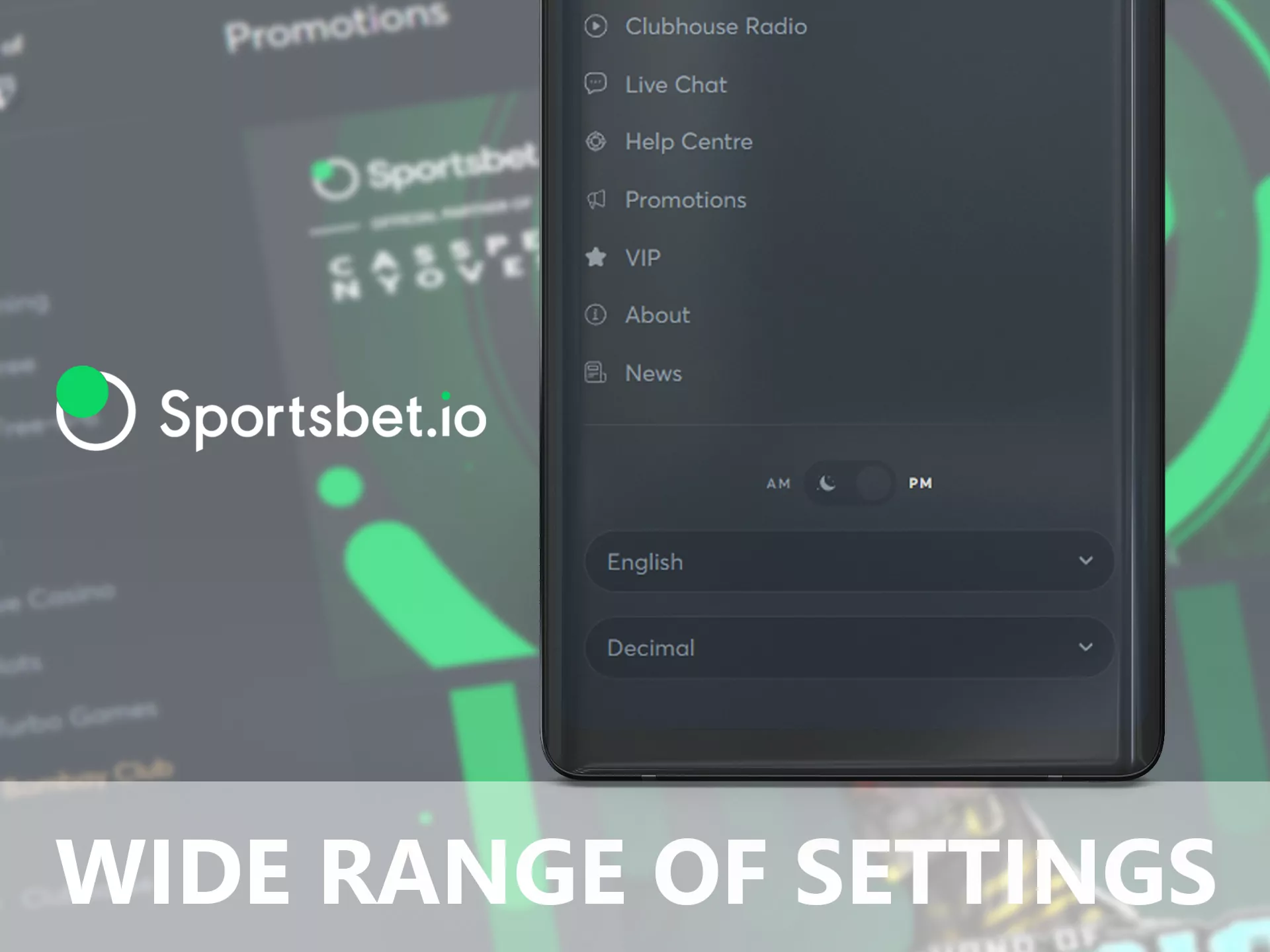 Support
If you have any problems or questions about installing and playing the mobile app, you can contact the 24/7 support team for assistance. Several contacts are provided for this purpose.
Our support team is available 24/7, with no weekends, breaks, or holidays. We will help you with any problem and provide free advice on all issues.
If you don't find a suitable way to contact us here, you can contact us through our legal entity.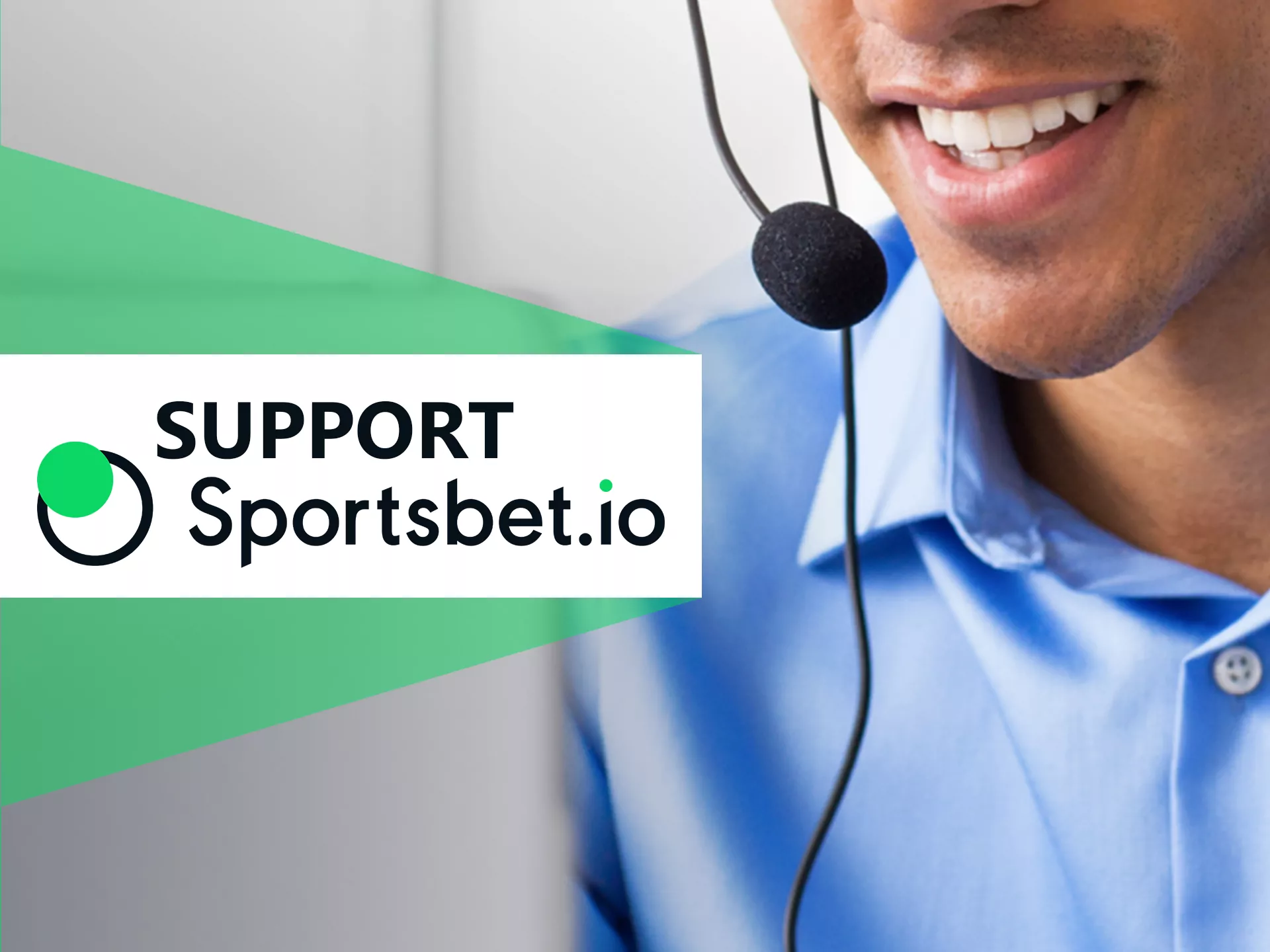 FAQ
How to Use Sportsbet App?
To start using the Sportsbet mobile app, you will need to download it from the website, confirm that you can install apps from unknown sources and then complete the installation. You will then be able to sign in to the app, log in to it or register. Access to betting and casino games will be opened after the deposit.
Do I Need to Create a Separate Account for the App?
No, if you have already registered with a bookmaker or casino before, you will be able to play with us through this account. You do not need to register again.
Can Two People Play From the Same Smartphone?
It is forbidden by the rules of the site, but if you address this issue to the support service, you may be able to meet.
Do I Need to Verify the Game?
You do not need verification to bet and play in the casino. It may be required in the future, when you want to withdraw money.
Updated: